Written By Pete Anthony
Last Updated On: 8-31-19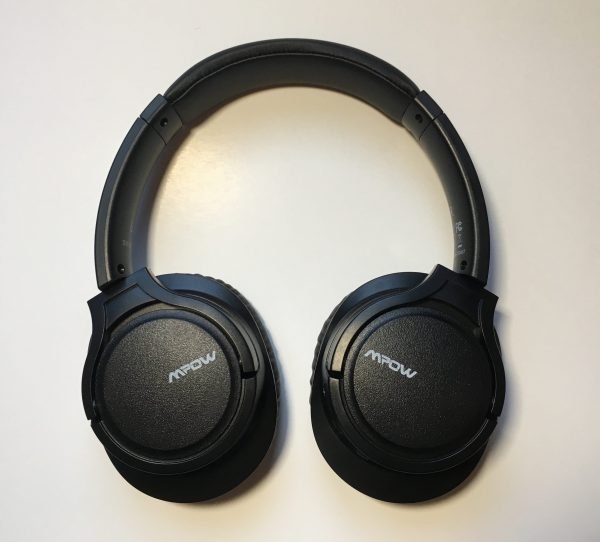 MPOW is a newer and relatively unknown company that has recently garnered attention from having several of their products creep towards the top of a few Amazon best sellers lists, in particular the over-ear headphone list. On that list you'll see the Holo H7s, which is currently MPOW's least expensive budget offering of over-ear wireless headphones.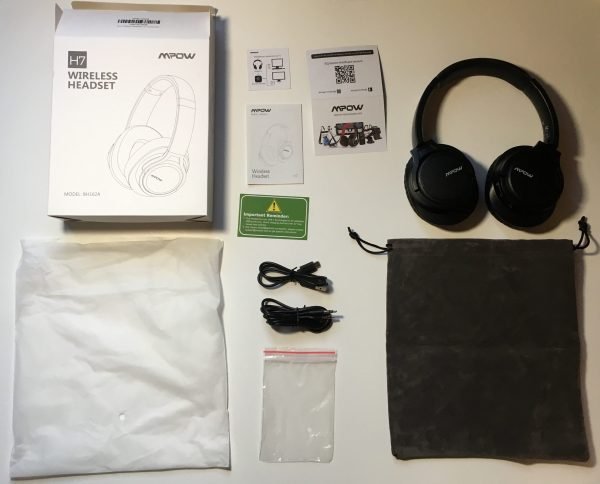 As is the case with many budget headphones, the H7's packaging is bare bones and not great. The headphones are simply in a plastic wrap bag in the flimsy box, no padding whatsoever. I'd be a little worried about them being damaged on arrival but the ones I received seemed to be unscathed and generally fine. They do have a 45 day full refund policy in addition to the warranty so at least you know you'll either get them replaced or your money back. The soft carrying satchel is actually a nice inclusion at this minimal price and not something you'd normally get.
Included with the headphones:
manual booklet
warranty card
quick start guide
a male-male ~5 ft long 3.5mm plug
a micro USB charging cable
a soft felt carrying satchel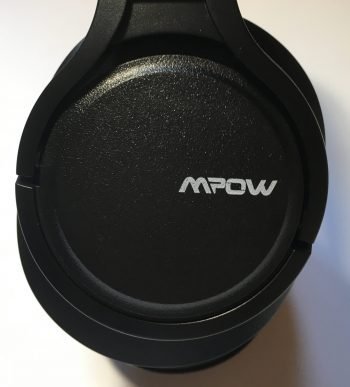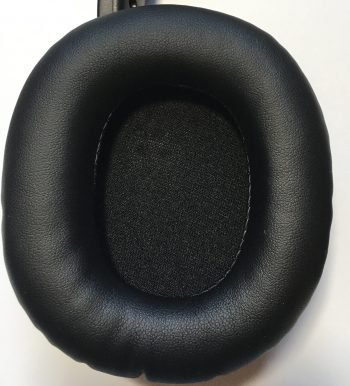 The headphones fit well and are quite comfortable – a tad vertically narrow, so larger ears might not like these, but they fit me fine. The pads and faux leather covering looks and feels very nice for how cheap the H7s are.
The headphones can rotate up and down via the horizontal c-brackets, and can additionally rotate horizontally forward and out, but not backwards in the other direction. Like so: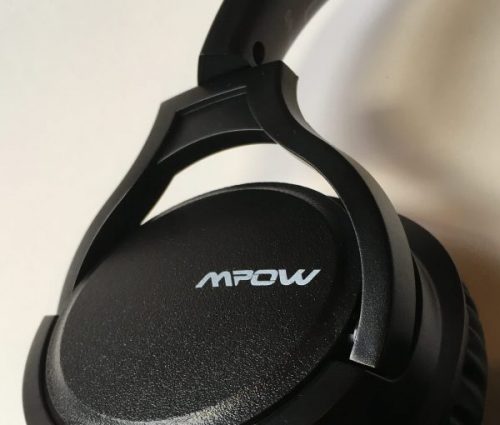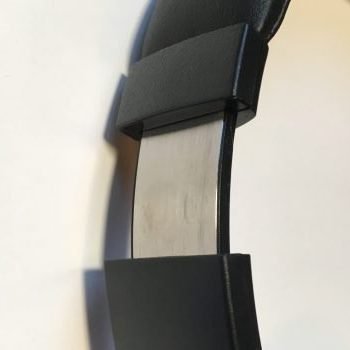 Each headphone is adjustable along a band that's plastic with a metal backing, which is actually quite nice and sturdy for this price-tier. There are no indicator lines on the band, but each notch makes an emphatic click, so you can at least count clicks to get equal length on each side.
The under-padding on the top of the headband is thin, and weirdly thicker on top – why didn't they put the thick side on the bottom? Who knows. I felt a very slight hotspot on top of my head, but still, all in all these headphones are very comfortable and sturdy feeling for how cheap they go for.

The inputs and control buttons are on the right headphone and are pretty intuitive and easy to use – the +/- button can adjust volume and surf tracks, and the phone button will play/pause media or actually go on and off phone calls. There is an in-line mic – it's the barely visible hole on the same right headphone.
The 3.5mm input gives you the option to use these as regular wired headphones, and the included cable is pretty basic but sturdy feeling enough and worked fine for me.
Sound And Performance
General impression: The H7s sounds surprisingly good for something that's currently available at the ~$25 price-tier. Clarity and separation are a little lacking, which is definitely more noticeable with some types of songs than with others. There's also a little boxy sensation. But other than that they sound full and clear.
Sound signature: Definitely round with some significantly noticeable recession on each end, which I'd say is the biggest shortcoming the H7 has.
Sound staging: Pretty much nonexistent, but it's hard to expect much when you're paying less than 25 bucks.
Bass: The bass is emphasized and doesn't sound particularly great – kind of muddy, rumbly, and lost pitch in some cases. Feelable resonance on some songs also caused a bit of short-term fatigue. Certain drops fell of considerably as well, like the volume of a low note would suddenly drop to 50% and make the song sound off.
Power/Volume: I can't find any impedance or sensitivity specs for the H7, but things seemed fine – they got plenty loud both plugged in and in Bluetooth mode.
Isolation: Pretty decent, I'd put it at a solid medium – enough for basic public/commuter use. There is a little audible leakage though.
Wireless: The initial charge took about three hours with them fully turned off. That's a bit on the long side, but the plus side is that these have a comparatively excellent battery life of around 15+ hours per charge. Bluetooth pairing was seamless, and the connection was surprisingly very good – the in-line controls were responsive and while there was a slight background static, it was much less noticeable than it tends to be on similarly priced competitors.
Warranty: Two years, which is actually very good coverage at this price-tier, where one year is quite standard and you rarely see anything longer than that.
Overall Take, As Compared To The Competition
The Holo H7 is a decently sturdy and comfortable pair of headphones that looks and feels more expensive than it is. They also sounded surprisingly good for how cheap they are – not great and without noticeable flaws, but decent overall. They also comparatively have a great battery life and seamless Bluetooth signal that's hard to even notice when music is playing. If you're looking for a serviceable pair of on-ear wireless headphones that's cheap, comfortable, and sounds decent enough, the Holo H7s are definitely a viable choice. That said, you can get superior sound for the same amount of money if you're willing to go with earbuds. A lot of superior on-ear options also open up if you're willing to up your budget not all that much to $50. See the links below for some such recommendations.