Written By Pete Anthony
Last Updated On: 3-25-19  
MPOW is a relatively new, unknown, and somewhat mysterious audio company with a nondescript about us page that doesn't shed much light at all on the company's history or the people behind it. Yet despite the apparent lack of marketing and brand recognition, multiple products of theirs have managed to dominate Amazon's best selling headphones list.
The H5 is one such currently popular product – an inexpensive pair of compact over-ear headphones with on-board controls, wireless capabilities, and an active noise cancelling (ANC) switch.
The box is small and somewhat flimsy, and the packaging is bare minimum – the headphones barely fit inside when collapsed and had a single bag of plastic protection. The included 3.5mm wire and micro usb wires are in a separate little plastic baggie. Also included is a manual and a basic felt carrying satchel, which incidentally provides a little bit of packing protection.
I understand that packaging is the easiest place to cut corners with budget headphones, but I do like the product to seem sufficiently protected from damage while shipping, and I feel like these wouldn't be. Mine arrived fine but I'd be worried others would be disproportionately damaged upon arrival.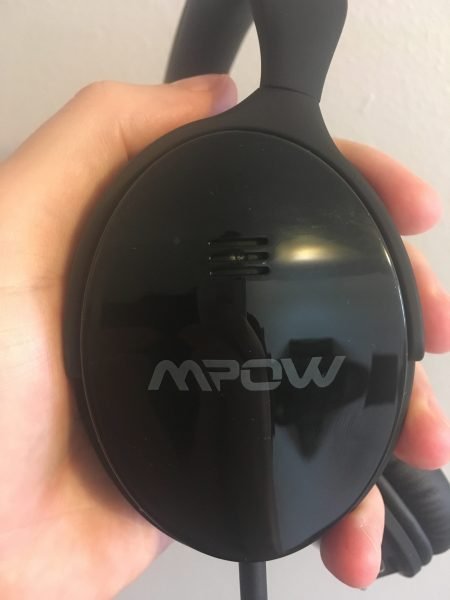 The headphones are narrow and compact, but they still fit nicely over my ears. The pad is kind of small but still feels nice enough, and the faux leather is decent as well. The headphones pivot vertically on a standard c-bracket which then can also rotate laterally. The headband itself is somewhat elastic as well, so it was easy to get a nice fit. The pads are shallow enough that I could feel my outer ear touch the inner foam a little bit but it wasn't bothersome.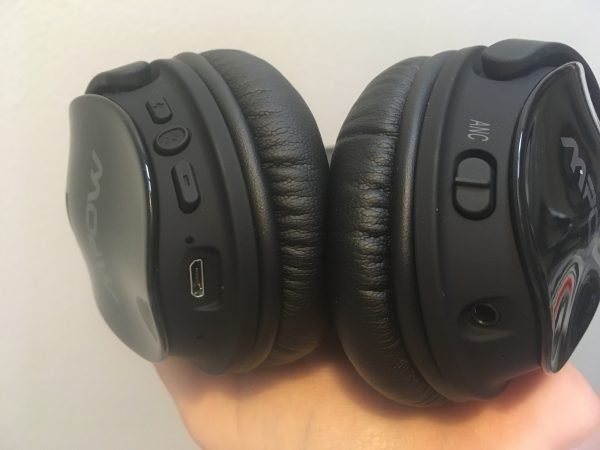 There's the 3.5mm input and an active noise cancelling (ANC) switch with a green indicator light on the right, and a micro usb, basic tracking buttons, and the bluetooth pairing button on the left.
The included headphone wire is the littlest, flimsiest thing I've ever seen in my life – it literally looks and feels like a 4 ft long linguine noodle. The connector is also pretty bad – you have to push the plug in in another 1-2mm after a feelable click to ensure a complete connection. In fact, I unfortunately did my initial listening test/notes only to discover that, after some suspiciously odd sound, the wire wasn't actually connected properly. The same thing happened when I reviewed another pair of MPOW's headphones (the 059s).
I would've liked to just use a different wire, but the input is awkwardly housed below the surface area on one side and nothing else I had could fully get in there, which was really annoying.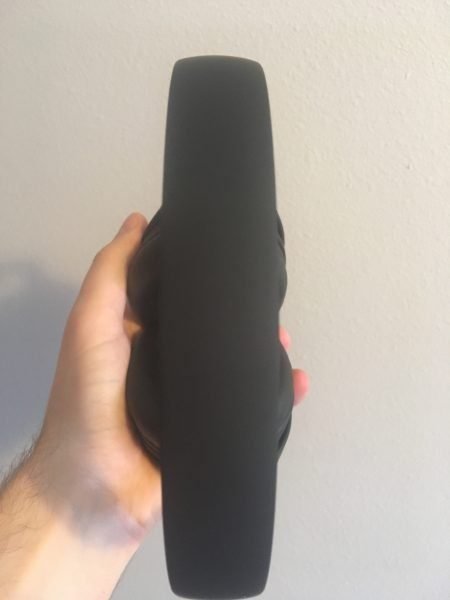 The headband is a bit small and narrow, probably slightly less than an inch wide at the top. The pad underneath is also a bit thin. Each side is adjustable via an inner metal band. There aren't any indicator lines, but each increment gives a firm click, so you can at least count those on each side to get even length. The clamp force is a bit on the tight side, but exorbitantly so. I prefer a clamp on the lesser side and still found these comfortable enough.
Overall, the H5's build is quite nice looking and sturdy, and a surprising contrast from the similarly popular 059s which are cheap, creaky, and plasticky. The H5s look pretty slick and more expensive than they actually are.
Spec/Performance Discussion, Listening Impressions, Other Related Observations
Once I sorted out the 3.5mm connection issues I gave myself a bit of time to sort of reset my ears, "forget" the old sound, and then ran through the listening test again. I'll admit I was initially pessimistic because I thought the more popular 059 headphones didn't sound that great, and I probably had some left over subconscious bias from the earlier debacle.
But I have to say, these sounded surprisingly good, significantly better than the 059s. When I put on those first couple of Daft Punk songs and I struggle to find anything wrong, that's always a great sign.
The overall sound quality was solid, no perceptible thinness, boxiness, or sibilance that is usually common with cheaper headphones. There was nice fullness that remained soft. The downside there is that there was definite roll off at either end. Bass was sometimes quiet and recessed, which is not a surprise with budget headphones, but there was a bit of mid treble recession as well that was noticeable sometimes. MPOW doesn't publish any specs on the H5 but I imagine the response range is comparatively average.
The headphones were also pretty quiet, I had to crank up the volume a lot more on my devices then I normally do to get to adequate listening volume. MPOW doesn't specify max SPL or impedance either, but I can't imagine any device having trouble with these, even if you do have to crank it up a bit.
These are so called "active noise cancellation" headphones but, even with the ANC switch on, there still wasn't that much noise isolation, and the headphones leaked significantly. The ANC switch also drastically changed the sound, for the worse I feel – the softness completely goes away and seems replaced with harshness and perceptible sibilance. I thought these sounded better with the ANC off so that's how I did the listening test, though I did intermittently turn it on here and there to compare mostly out of curiosity. The ANC also had a perpetual background hiss when it was on that I could still barely hear with music on if I tried to listen for it.
The H5 has a 45 day return window and a 1.5 year warranty, which is pretty solid coverage for the price they're at.
Random specific listening notes:
Daft Punk; Give Life Back To Music – build up sounded good, initial drop sounded excellent, great clarity, percussion is a little boxy and background guitar is a bit recessed, but this sounds really good all in all
Daft Punk; Get Lucky – sounded solid yet again, bass was a little "wumpy" and distracting, Pharrell's vocals sounded really good
Daft Punk; Lose Yourself to Dance – bass drop was recessed, definitely muddy and lost tone/pitch, feelable resonance, guitar sounded better here, Pharrell's vocals sounded really good once again
An Endless Sporadic; Impulse II – sounded very solid overall, nice even reproduction, great clarity, nice and tight percussions, symbols were a little grainy, orchestral instruments sounded great, ending guitar solo came through solidly
Trinity College Choir; Ubi Caritas – solid yet again, nice and even, no lost parts, little flat though
Clean Bandit; Rather Be – sounded solid all around, violins not normally harsh, no perceptible complaints
Steely Dan; (various) – sounded good yet again, bass was a little recessed but otherwise no perceptible complaints
Lil Wayne; A Milli – drop sounded decent, but a little muddy and toneless, bit of resonance/fatigue
The Chainsmokers; Wake Up Alone – initial part sounded really good, had to listen to it twice to really believe it, great clarity, evenness, female vocals on point, could hear ambient background instruments. The drop was decent but you could hear the variable volume on lower notes that dropped off.
Earth, Wind & Fire; September – sounded fine overall, midrange string/brass was a recessed
Deadmau5; The Veldt – solid overall, no perceptible complaints
I giorni; Ludovico Einaudi – Piano sounded good, string instruments a little recessed, nice overal softness and roundness
Nas; The World Is Yours – Vocals definitely a bit forward, bit of fatigue, DJ solo sounded really good
No Doubt; Hey You – guitars were a little forward and harsh, song a bit lacking in clarity, Gwen Stefani vocals a bit recessed, song just sounded a little off generally
Petit Biscuit; Memories – beat felt muffled and overpowered the rest of the song, definite fatigue as well
Rage Against The Machine; (various) – sounded technically solid, just a little underwhelming, like their production isn't the best for this type of headphone sound
RUFUS DO SOL; Sun Dream – sounded really solid, no perceptible complaints
Rush; YYZ – drums were a little recessed, but still sounded solid, clarity was there
Vanilla Sky; Umbrella – sounded a tad boxy and narrow, vocals a bit recessed
Overall Take, As Compared To The Competition
The H5 sounded very solid, and surprisingly much better than MPOW's more popular 059s which I didn't think sounded that good. Compared to similarly priced competitors, they're definitely in the best-of conversation and pretty clearly the best thing available that has wireless/Bluetooth features. The ANC switch doesn't actually do much at all to help noise isolation and makes the sound worse – I just don't think good noise cancellation is going to be realistically available for $50 or less.
Update: a new version of this product has been developed and released, apparently improving the noise cancellation and overall sound, and doesn't cost that much more money. I haven't listened to it but I'd imagine there's improvement worth the marginal cost increase, and the old one will probably be phased out eventually.
Get the MPOW H5 on Amazon (affiliate link)