Written By Pete Anthony
Last Updated On: 3-16-19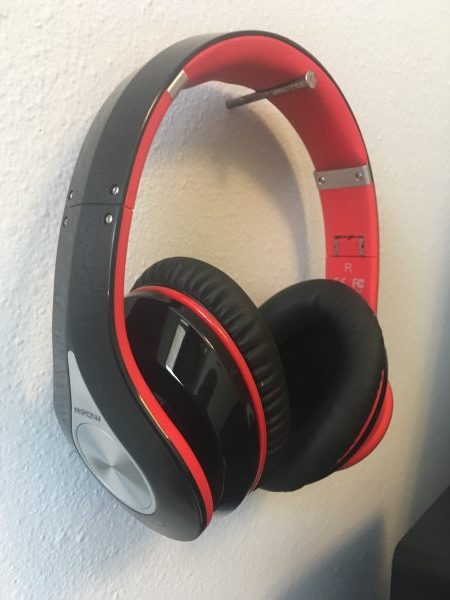 MPOW is a company I'd never heard of before researching the headphones reviewed herein, and their very short and nondescript about us page didn't really shed any additional light on who these guys are or what their history is. A few of their headphone products, though, have recently been dominating the Amazon best sellers list. These inexpensive 059s have racked up over 20k reviews and a largely positive rating on Amazon, so of course I wanted to see what all the fuss is about.
The 059 comes in seven different colors. I got the red ones because they were cheaper than the rest for some reason, probably because they were overstocked at the time. They kind of look like a child's toy, but whatever, on we go.
Unboxing was frankly terrible, pretty clearly one such predictable point where a cheap product like this one cuts corners. The box was a tiny, flimsy little thing than ripped multiple times despite my best efforts to gently open it. The headphones barely fit inside when awkwardly crammed into as small a shape as they can get. They were sloppily encased in a single sheet of small bubble wrap that left one of headphones hanging out and exposed. Not great overall – mine didn't arrive obviously damaged, but I could see that happening to others.
Included is a very basic, ~4 ft male/male 3.5mm cable, and a ~1.5 ft mini to standard USB cable that's basically only good enough to plug them in to charge. The headphones are wireless, Bluetooth compatible, and apparently have a built in mic but I cannot for the life of me find where it is. These aren't a headset so I don't really know why anyone would use it anyway. There's also some instructional literature, a warranty card, and a carrying case.
The case is actually pretty nice – it's a felt satchel with a cloth inner lining and pullable draw strings. Actually big enough to fit the headphones into without cramming them like they were in the box.
Inputs are on the bottom of each headphone, 3.5mm on the left, mini usb on the right
I'm always skeptical of inexpensive so called over-ear headphones actually fitting over the ear, but these do, and they're surprisingly comfortable. The right headphone has basic volume, track skip, and pause/play buttons. No feelable contouring though, you'll have to just kind of memorize and get used to where they are. None of the buttons actually work with just the 3.5mm connection – I'm assuming it needs to be Bluetooth synced if you want to use them.
headband is adjustable on both sides with a metal band that feels sturdy enough. No indicator lines but it clicks with incremental adjustments and felt firmly in place. Was actually able to get a nice feeling fit on my head – I like over-ear headphones that feel firm but not overly vice-grip tight and was able to get these the way I generally like it.
The headphones actually move independently on a joint that moves up/down and left right. Kind of hard to see, I took the best picture I could, but you can see the difference on the left/right headphone here.
The 059s definitely have a cheap and flimsy feel, and you can hear the plastic kind of creak as you move them around, but they feel surprisingly decent on my head. Also nice with the softer pads is that they don't mess with my glasses, which for the spec wearers is sometimes an issue with over-ear headphones.
Spec/Performance Discussion, Initial Listening Impressions, Other Related Observations
When I first turned these on, they sounded god-awful, like not even listenable because certain sounds where literally completely disappearing… so I double checked everything and realized the 3.5mm jack wasn't fully slotted in – you have to give the plug a pretty firm push to properly connect it to the headphone.
And then, after a proper initial listen, they sounded… eh, really not great. There were pretty immediately apparent flaws.
The bass was actually quite strong, but not really in a good way. The major thing I noticed is that these headphones are not balanced throughout the range, and the bass was kind of drowning out the mids/highs which tended to fall off. The bass itself was kind of muddy and sluggish. I felt some resonance in the headphones themselves which is not a pleasant sensation at all. Low bass notes definitely lost their tone and pitch on some songs.
They're slightly hissy, almost as though I was listening to a radio station that wasn't getting quite a strong enough signal, like everything felt a little far away. You could really tell with the vocals and higher percussions. Choruses on songs like Steely Dan's Peg just dropped off and sounded straight up bad. Synth percussion was noticeably harsh.
MPOW doesn't disclose any specs on these headphones but I'd imagine a response graph would not come back even looking, and I could tell they couldn't get all the way down on some songs. I also had to crank the volume up a bit on my desktop, so I'm not sure how loud these can realistically get.
Because these headphones are so seemingly popular and highly reviewed, I'm going to try to give these more of a chance beyond a few hours of initial listening and update this review accordingly, and but I doubt my impression will change much.
They have a 45 day return window and a two year warranty which is actually really good for a set of cans as cheap as these are, so if you want to return them or they break at least you're decently covered.
Overall Take, As Compared To The Competition
For less than fifty bucks the MPOW 059 is a serviceable over ear headphone that feels surprisingly comfortable, but also kind of flimsy and cheap. The overall sound is listenable, but just not that great – there are pretty immediately perceptible flaws and shortcomings. The price point is awkward because for not that much more money you can get significant improvement in sound quality.
Get the MPOW 059 headphones on Amazon
See our current picks for the overall best budget over-ear headphones