Written By Pete Anthony
Last Updated On: 4-29-19  
Koss's Plug is a somewhat popular entry level budget earbud that's been around for a while now, mostly known for its unique design.
Packaging is pretty basic and minimal but decent enough – the box has an inner plastic piece that covers the contoured packing piece where the buds and replacement tips are embedded. The bundled wire and manual are in the back beneath the packing piece.
Included with the headphones:
one pair of identical replacement tips
manual
warranty card
The earbud design is unique – the included foam tips are very long and not dissimilar to actual earplugs. They fit around that tube that extends about 2/3 inches out of the front.
It's an interesting idea, but unfortunately it seems to fail on actual execution, because the fit is frankly terrible. You'd think the long tips would easily get snug and create a solid seal, but in fact I couldn't achieve either despite a lot of trying. The best I could get left them feeling like they were always about to fall out. One issue is that the buds themselves are just too big and also uncontoured, so they'd hit against and be blocked by parts of my outer ear before I could get the tips fully inside. Another issue is that, after pinching the foam to fit them, like you would with actual earplugs, it seemingly takes over a minute for the foam to re-expand and create a seal, so taking these out and putting them back in is a huge pain.
I tried using a silicone replacement tip (not included) and was able to get a fit that I'd deem minimally satisfactory if I inverted the bud, but even then I'd lose the seal if I moved my head and jaw around enough.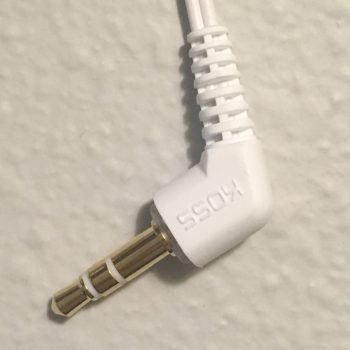 The wire, joints, and jack support are pretty flimsy and minimal, and the jack gave me a little feedback when it was plugged into my device.
All in all these are not very well built/designed earbuds and the poor fit alone is enough of a deal breaker on its own in my opinion.
Spec/Performance Discussion, Listening Impressions, Other Related Observations
These don't sound great out of the box either – thin and significantly boxy, with a palpable lack of fullness that's most likely a function of the poor fit. The bass was quiet and recessed and the overall sound signature was a narrow sounding upside down U shape. With the silicone tips, the sound just seemed to change to a different kind of bad. The bass suddenly got boomy and muddy and the overall sound got kind of muffled. There's also essentially zero isolation since the backs are semi-open, and covering them drastically alters the sound to the point of non-functionality.
Overall Take, As Compared To The Competition
The Plug has a unique and interesting design, but one that seems to fail because the fit is terrible, which compromises the already mediocre-at-best sound. With so many alternative options now in the budget price range, I don't see any reason to recommend these.