Written by Pete Anthony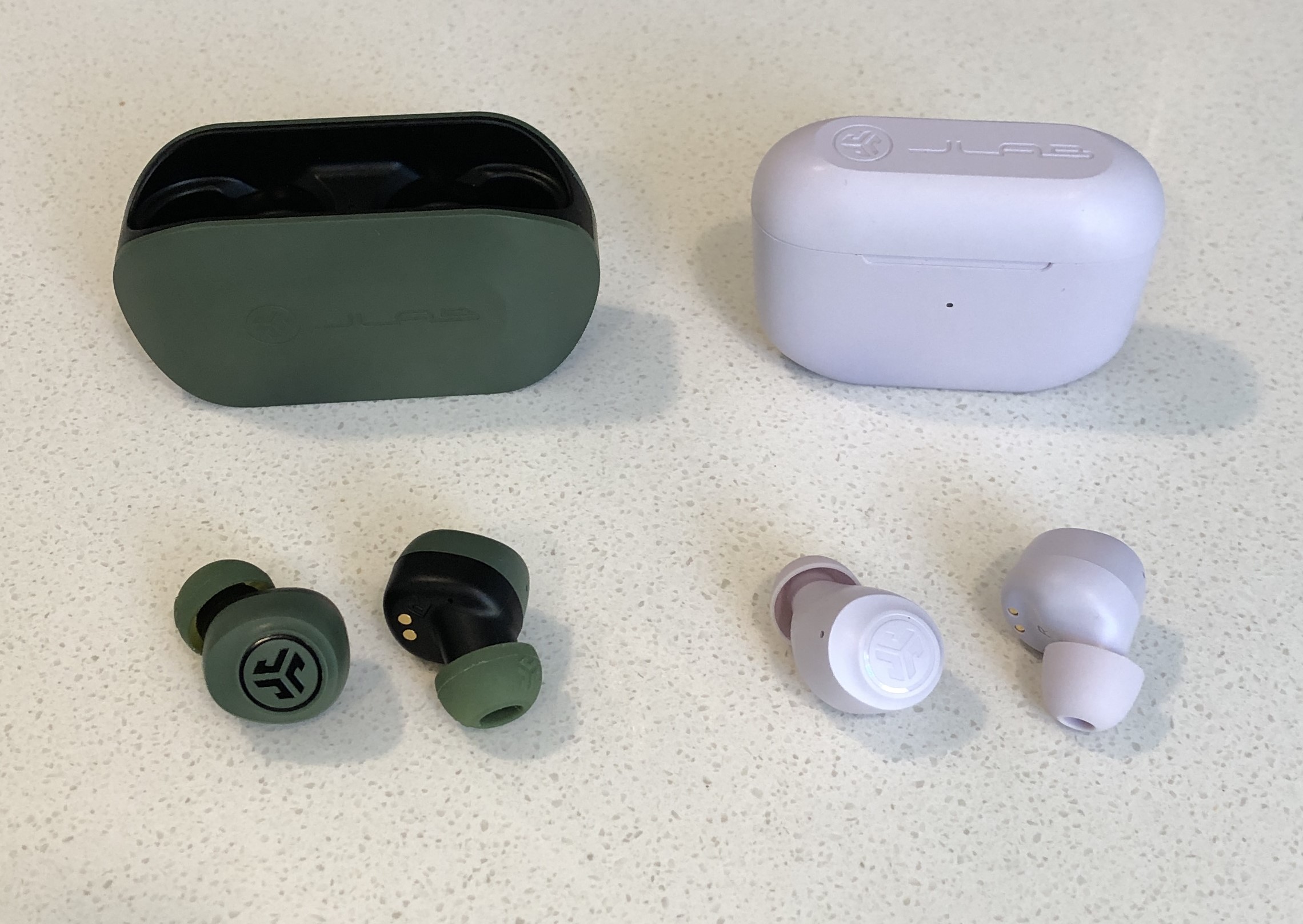 JLab's original GO Air and next gen GO Air Pop are two of the most popular budget wireless earbuds ever. While JLab advertises that the GO Air Pop is an upgraded improvement on the GO Air, which they obviously would, the GO Air remains very popular despite being five years old now, which is ancient by TWS standards. Most products released in tandem with the GO Air are long gone into obsolescence, and the fact that the GO Air not only remains relevant but a top seller does say something about it.
It's not surprising that one of the currently most commonly asked comparison questions in this niche is how the GO Air Pop compares to the GO Air – is the new gen product decidedly better than the older one? I have fully reviewed both of them and will answer that here.
JLab GO Air vs GO Air Pop Side by Side
The GO Air Pop earbuds are slightly but still noticeably smaller and lighter than the GO Air earbuds are. Other than that they look and feel pretty much the same.
JLab GO Air vs GO Air Pop Specs and Features
Spec
GO Air
GO Air Pop
release date
Sep, 2018
Sep, 2021
price-tier ⓘbudget: around $30 or less
value: around $30-$60
performance: around $60-$100
premium: around $100-$200
elite: more than $200
budget
budget
design style
8mm single dynamic driver
6mm single dynamic driver
earbuds battery life
5h
8h
total + case battery life
20h
32h
weatherproofing
IP44
IPX4
onboard controls
touch based
touch based
wireless charging
no
no
active noise cancellation
no
no
transparency mode
no
no
Bluetooth version
5.0
5.1
EQ app compatibility
no
no
Multipoint 2+ device support
no
no
warranty
2 years
2 years
Despite the GO Air Pop being the subsequent upgrade, it still has mostly similar specs to the GO Air. The only notable differences are the smaller driver and the improved battery life of the GO Air Pop, which is probably in significant part due to the newer Bluetooth version. I don't think that, all else being equal, going from Bluetooth 5.0 to 5.1 (or the current 5.3 for that matter) is going to make a difference in sound quality, but it will likely improve signal range in addition to the battery life.
JLab GO Air vs GO Air Pop Charging Case
The obvious change here is that the GO Air Pop case added a lid, which I think is something that most people want. The GO Air Pop case still has nice magnetic charge terminals that the buds firmly pop into. The GO Air Pop case is also smaller, thinner, lighter, and generally better shaped for being bag or pocket friendly. The GO Air Pop case is just slightly more flimsy than the GO Air Case, which is very sturdy albeit bulky, but all in all the GO Air Pop case is significantly better all around.
JLab GO Air vs GO Air Pop Fit and Comfort
Both the GO Air and GO Air Pop have comfortable fits that are 100% secure, and neither had any seal breaking issues no matter how I moved any part of my head around. The Go Air has a shallower on-ear style fit and the GO Air Pop has more of a deeper and firmer in-ear style fit. The GO Air Pop, in addition to having longer and narrower nozzles, also has longer and narrower tips, both of which influence the different fit styles.
The newer GO Air Pop tips are also a noticeable improvement on the original GO Air tips. The GO Air tips feel a little rough on the skin and are also rather stiff, and they audibly "pop" out of shape when contorted. The GO Air Pop tips resolved both of these issues – they have a nice soft feel and are seamlessly malleable.
The deeper and firmer fit of the GO Air Pop also gives it a a little better natural isolation.
JLab GO Air vs GO Air Pop Sound Quality Test
Preliminary note: this page explains how I evaluate the sound quality of headphones and earbuds.
The only significant design difference on paper between the GO Air and GO Air Pop is that JLab went with a smaller 6mm driver with the latter. The GO Air Pop has the same "JLab Signature" proprietary EQ pre-set as the GO Air does, but I would wager that the tuning was improved from 2018 when the GO Air was originally released to 2021 when the GO Air Pop subsequently came out.
Long story short is that the GO Air Pop managed to eliminate specific issues that the GO Air has – namely the hissyness, sibilance, and Bluetooth feedback – and the Go Air Pop just sounds noticeably better in general. The balance of the GO Air Pop, while it's still a little bassy, is much better than that of the GO Air, which in my opinion is way too skewed towards the bass, to the degree that the mids and highs almost sound a little behind and underwater. The Go Air Pop balance feels more or less "right," and you can hear everything from low to high at a volume that feels where it should be. The accuracy of the GO Air Pop is also better – the individual instruments and vocals are more natural and real sounding.
Switching from an 8mm driver to a smaller 6mm driver was apparently the right decision – with a single driver on a budget, 6mm offers better all around sound performance than 8mm in my experience.
Final Verdict: Should You Buy the JLab GO Air or GO Air Pop?
The GO Air may have been a budget leader five years ago, but that's a lifetime in TWS years and the industry has improved considerably since then. The GO Air Pop is an emphatic upgrade over the GO Air – better fit, better battery life, and noticeably better sound. And they added a lid to the case.
If you want an absolutely-cheap-as-possible pair of wireless earbuds the GO Air is perfectly fine for basic use, sure, but in my opinion spending a few extra bucks to get the GO Air Pop, which is still very inexpensive, is a no brainer.
Get the GO Air wireless earbuds on Amazon (affiliate link)
Get the GO Air Pop wireless earbuds on Amazon (affiliate link)
Relevant Articles
• Full GO Air review
• Full GO Air Pop review
• Is JLab a good audio brand?
• The overall best budget true wireless earbuds (under $30)