Written By Pete Anthony
  Last Updated On: 5-1-19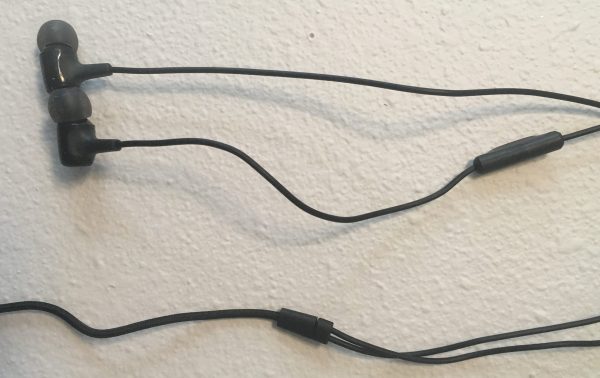 JBL's E15 is a popular wired earbud that has seen some fairly significant discounts from the original MSRP, which I think are due to it being superseded by the newer Tune series earbuds.
The packaging is nice – there's an outer then inner box, which opens up to reveal contoured packing foam that's fastened inside. The buds are embedded into the packing foam, and the bundled wire and accessories are neatly packed in their own compartments. The wire is kind of awkwardly wrapped around from back to front so the buds show through the display screen.
Included with the headphones:
faux leather carrying satchel
two pairs of different sized silicone replacement tips
warranty and instructional pamphlets
The earbuds are pretty basic – decently light, but a little bulky. They fit pretty well out of the box, though they lost a bit of seal if I moved my jaw enough. They also hung out and down a little, and I could feel them pull slightly when I rocked my head. Wearing them inverted and wrapping the wire over the ear is an option and would likely mitigate these issues at least somewhat.
The mic is on the right side and is also basic, with a single on/off call button.
The wire is interesting – the left and right side above the joint have traditional rubber insulation, while the joined wire below switches to a woven fabric, and is nice and sturdy. A little piece above the joint can slide up and down to shorten the left/right wires.
The semi angled jack support is small but feels decently sturdy. The jack itself plugged firmly into my device but did have very slight audible feedback, but I couldn't notice it when music was playing.
All in all these are fairly basic earbuds that fit decently enough.
Spec/Performance Discussion, Listening Impressions, Other Related Observations
General impression: the E15 sounds decent for the minimal price it's currently available for, and didn't have any significant flaws that tend to be common with cheap headphones. There's some lack of detail and separation that kind of makes songs sound blended together. There's also very slight sibilance on percussions sometimes, also some onset fatigue.
Sound signature: definitely round, with maybe a slight V depression in the mids. They feel deceptively easy to listen too, but the emphasized bass is what seems prone to the onset fatigue.
Bass: the bass is emphasized and kind of muddy and boomy, and a little distracting with some upward bleeding. Percussions cause some feelable resonance which contributes to the fatigue for sure. The quoted response range is 20 – 20k Hz, which is pretty average for budget earbuds, and the bass pretty much reflects that floor – the extension wasn't quite there and though low drops didn't lose volume they kind of devolved to toneless rumble.
Power/Volume: The impedance rating is 16 ohms so these should work fine with pretty much any device. For some reason JBL doesn't publish a sensitivity rating with the E15, but if I had to guess I'd say it's on the low side because I had to crank up the volume on my device higher than I normally do to get these where I normally like it.
Isolation: decent, I'd say around medium, should suffice for most commuter use that isn't excessively noisy.
Warranty: the E15 has a one year warranty, which is comparatively average.
Overall Take, As Compared To The Competition
The E15 is a decently comfortable, sturdy, and sounding earbud that's now about as cheap as it gets thanks to it seeing significant discounts. I wouldn't say its worth it at the original MSRP price, but for less than $15 it's certainly a viable option for an all around decent commuter earbud.