Written By Pete Anthony
  Last Updated On: 9-1-19  
Edifier is a somewhat newer American audio company that has recently garnered a lot of praise and reputation for producing several industry leading budget bookshelf speakers – you can see how they're currently dominating Amazon's best sellers list.
The company also now produces a wide variety of budget headphones, and it's interesting to see how they stack up to the extensive and stiff competition given how well their bookshelf speakers have fared. Enter the H210s and P210s, a simple pair of earbuds available at a minimal price. The only difference between the prepending "H" and "P" versions is that the former has an inline mic and costs a couple bucks more than latter which doesn't have one. Otherwise the two are the exact same earbuds.
Packaging is pretty basic but sufficient – a semi-hard small plastic sleeve with a contoured inner piece of plastic where the buds are embedded. The remaining wire and inclusions are somewhat crammed into a bottom compartment.
Included with the headphones:
two pairs of different sized silicone replacement tips
manual pamphlet
warranty card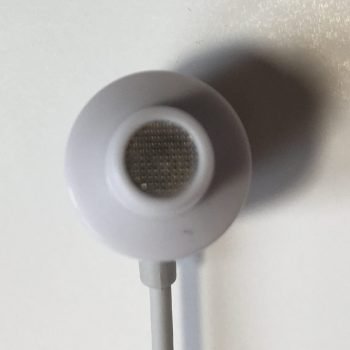 The buds are basic and lightweight, but fit me nicely out of the box with the default medium tips. The seal didn't seem to break at all no matter how I moved my head and jaw. No feeling of them weighing out and down.
One distinct feature of these earbuds is that the left and right wires come out at a slight angle rather than straight down. This helps the beginnings of the wires clear the ear lobe, and I do feel it made them slightly more comfortable when I payed attention to that.
The mic on the P210 version is on the left wire and is basic. There's no visible button on the outside, but the entire piece can kind of be squeezed together which makes a click, and that's the single "button" that can play/pause media as well as go on/off phone calls.
The wire is pretty basic and flimsy and remained wrinkled when taken out of the packing sleeve, about what you'd expect on an average pair of cheap ~$10 earbuds. The insulation is nice and smooth and didn't cause too much microphonics at least.
The 3.5mm plug is similarly basic with a minimal sleeve, but plugged into my device with no problems.
Sound And Performance
General impression: The P210 sounds passable but not particularly great. Clarity and detail were significantly lacking enough to make the overall sound muffled.
Sound signature: Round, middle and bass emphasized, with noticeably recessed trebles.
Sound staging: Pretty much none but that's generally to be expected with cheap earbuds.
Bass: Emphasized and punchy, but again didn't sound all that great. Kind of muddy and devolved into a pitchless rumble on the lower sounds. Feelable resonance with some songs. Drops sounded surprisingly good and came through fully so at least these earbuds can get down there.
Power/Volume: Got plenty loud just fine. With an impedance rating of 24 ohms and sensitivity of 105 I don't think any device is going to have problems powering these.
Isolation: Somewhat decent, around medium, probably fine for general public/commuter use.
Warranty: one year, which is pretty standard coverage for cheap headphones.
Overall Take, As Compared To The Competition
I wasn't particularly impressed with the P210s. The sound is passable and the build/fit is decent for the cheap price, but the lack of detail and clarity coupled with the recessed trebles made these have a muffled sound. Edifier makes a lot of excellent equipment but they seem to have missed the mark with these, because there are many alternatives for the same price (or not much more) that sound much better than these do. See the links below for some such recommendations. The only thing the P/H-210s might be good for are easy non-fatiguing listening to podcasts, audiobooks, or other such media.
Get the Edifier H210 on Amazon