Written By Pete Anthony
  Last Updated On: 4-17-19  
Betron is a British audio company that makes a wide variety of budget to high end headphones. The nice looking and deceptively inexpensive DC950 earbuds are currently one of their entry level offerings.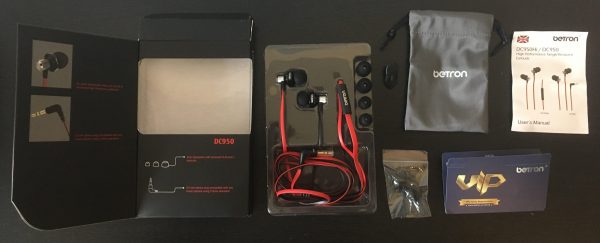 The packaging is nice, as is the opening presentation, which is something I normally don't even pay attention to with budget earbuds. The outer layer of the box folds open to reveal a clear screen where you can see the buds, jack, and replacement tips nicely embedded and lined up in a contoured packing piece. Said packing piece slides out the top to reveal a lower compartment where included accessories are neatly stored.
Included with the headphones:
a soft carrying satchel
a protective plastic cap for the jack
a shirt clip
two different sized silicone replacement tips
one pair of malleable foam replacement tips
instructions pamphlet
registration/warranty card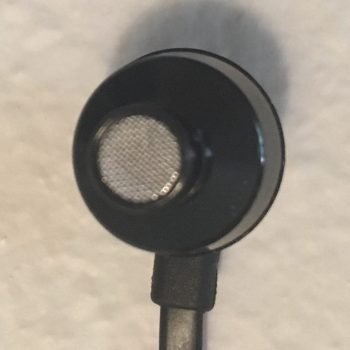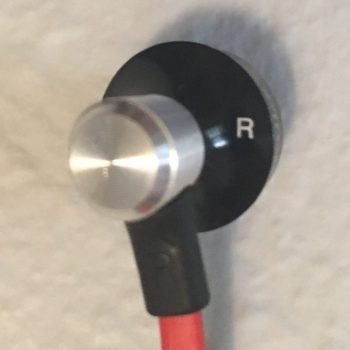 The earbud is quite nice and sturdy. Though it's a bit heavy, it has great weight distribution that feels like it's helping push into my ear rather than falling down and out. They fit very comfortably and securely and didn't shift or lose the seal when I moved my head and jaw.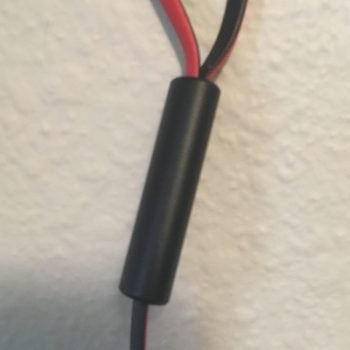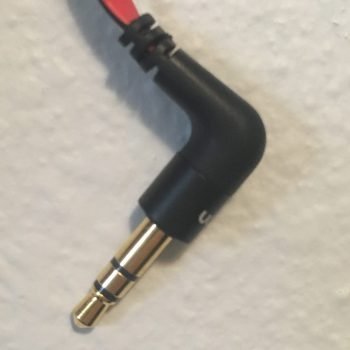 The wire is also nice and sturdy albeit bulky. The joint actually merges the left/right sides into a single wire with the exact same insulation. The flatness with the smooth finish helps prevent tangles, but is also prone to microphonics if the edge drags along clothing, but the shirt clip could certainly minimize that.
The DC950 also comes in a with an in-line mic and basic tracking/volume buttons for a few bucks more.
The jack is nice and sturdy and plugged in firmly to my device, and the angled support is also nice and thick.
All in all, the DC950 feels sturdy, fits very well, and looks quite nice, all of which belie its minimal price.
Check out the DC950 more on Amazon
Spec/Performance Discussion, Listening Impressions, Other Related Observations
My general and overall impression is that the DC950 sounds comparatively solid for a less than $15 earbud. No glaring flaws that are often attributable to cheap headphones like thinness, sibilance, hiss, boxiness, etc. They do sound a little muffled though, and lack detail and crispness.
The sound signature is bass emphasized, with the proverbial warm/round feeling. The curve seems to slope downward with recessed mids/highs and drop off up top.
The quoted response range is 20 – 20k Hz, which is comparatively average, yet the bass was nice and strong and didn't seem to drop off at all. Various drops I tested didn't lose volume. However the bass was pretty overpowering, and while it didn't seem muddy or upward bleeding, it did have a fair bit of feelable resonance and caused me pretty significant fatigue. You can really feel percussions thump. I felt the urge to stop the music and take a break multiple times throughout my listening playlist.
The sensitivity rating is 96, which is somewhat low, and the impedance rating is 32, which is somewhat high. In theory this would make these need more power and cranked up device volume, but I found that these got plenty loud quite easily.
The isolation seemed quite good – I'd put it somewhere between medium and high, so these are a solid budget option for noisier commuter use.
The DC950 has a one year warranty which is comparatively average for budget earbuds.
Overall Take, As Compared To The Competition
The DC950 is a very comfortable and nicely built and sturdy earbud that feels and looks more expensive than it is. The overall sound quality is decent too, with no perceptible specific flaws that are common with cheaper headphones. There's a lot of bass emphasis though, and it's quite resonant and fatiguing, and the mids/trebles are recessed and lack detail and crispness leading to an overall muffled kind of sound. If you're a basshead who is looking for that feelable thumpy bass and don't mind a lack of detail, then the DC950 is certainly a viable budget option.
Get the Betron DC950s on Amazon
Get the DC950s with in-line mic and control buttons on Amazon