Written By Pete Anthony
  Last Updated On: 4-26-19  
Betron's B25 is a budget earbud that advertises itself for its strong bass emphasis and noise isolation. It comes in two versions either without or with an in-line mic and control buttons for a few bucks more.
Packaging is fairly basic but decent enough. Semi hard plastic outer box and contoured packing piece inside, which the buds and jack are firmly embedded into. The wire is neatly bundled in the lower compartment, and the carrying case with inclusions sits below and gave a bit more inadvertent padding itself. The manual is at the bottom behind the packing piece.
Included with the headphones:
soft felt carrying satchel
protective plastic cap for the jack
shirt clip
four extra pairs of different size silicone replacement tips
The earbuds are quite nice and sturdy for the low price, and also manage to stay fairly light. The knurling for easier grip is also a nice little touch. They fit me very well out of the box, nice and comfortable and the seal didn't break when I moved my head or jaw around.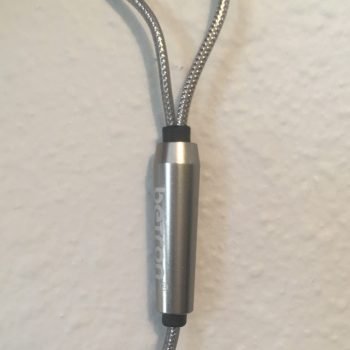 The wire and joints are also nice and sturdy. The wire has an outer layer of insulation that's very smooth and pretty much removed any microphonics. The jack plugged in firmly to my device.
All in all these are very nice looking and feeling earbuds that definitely belie their minimal price.
Check out the B25 earbuds more on Amazon
Spec/Performance Discussion, Listening Impressions, Other Related Observations
General impression: overall the B25 doesn't sound that great – they're boxy and lack enough detail to sound muffled. They do however feel very soft, and extended listening was very easy. These would actually be ideal for things like talk radio and podcasts.
Sound signature: definitely round and kind of narrow, with emphasized bass and significant roll off in the mids then trebles.
Bass: the bass extension is very good. Betron doesn't publish response range specs but the various drops I tested came through fully and didn't seem to fall off at all or lose pitch on the lowest notes. The bass sound however is muddy and definitely bleeds up and is forward and distracting.
Power/Volume: Betron neither seems to publish any impedance or sensitivity specs, but I found these got plenty loud with my device volume about where it normally is with earbuds. I highly doubt earbuds as cheap as these would have enough impedance to give any device problems with powering it.
Isolation: quite good, and another strong suite of the B25 – I'd put it above medium towards high. I couldn't really hear or notice anything outside, and I think these would do well with just about any commuter use short of excessively noisy environments.
Warranty: the B25 has a one year warranty which is comparatively average for budget earbuds
Overall Take, As Compared To The Competition
The B25 is nice and sturdy, fits well, and is comfortable, and on the outside seems more expensive than it actually is. But the sound quality isn't particularly great. The recessed mids/trebles and lack of detail/crispness are enough to make them sound boxy and muffled. I wouldn't recommend these for critical music listening, and there are much better sounding competitors for the same price or not much more. The B25 is, however, very soft and not at all harsh, and extended listening felt very easy – quite ideal for things like podcasts or ambient background music. If you're looking for a cheap earbud for that kind of purpose the B25 would be a decent choice I'd say.