Written By Pete Anthony
Last Updated On: 3-22-19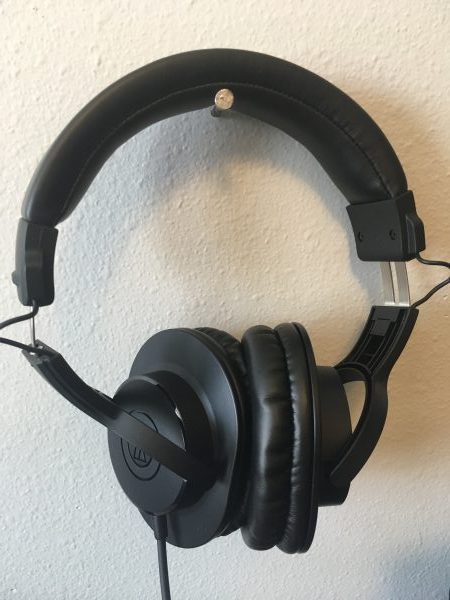 Audio Technica isn't nearly as marketed as the popular and well known headphone brands, but they've still presently emerged as one of the premier headphone producers. The ATH-M20x is the smallest and cheapest in their lineup of several closed back monitoring headphones, and the only of which to fall into the $50 or less category. I was excited to review this one because I wanted to see how it directly stacked up to the highly popular ATH-M40x (reviewed here), which is currently widely agreed to be the best performing all around pair of headphones available for $100 or less. I've had the M40x on my desk for a while now and love them, and am consistently using them as a benchmark to compare other budget headphones to. If the M20x is even close to the M40x it's probably going to be the best overall choice in the under $50 category.
The box/packing was the same as the more expensive M40x and great overall, definitely the best I've seen so far with on/over ear headphones less than $50 dollars. The box itself looks nice and is sturdy, and easily opens up to reveal two fitted pieces of soft cardboard packing. The piece that holds the headphone in place is nicely inscribed with the Audio Technica logo. The headphones and the wire were also individually wrapped in protective plastic. Additionally included is a simple 6.35 mm adapter jack that plugs on if you want to use that input, and a simple pamphlet style manual. These don't come with a carrying case like the higher models do.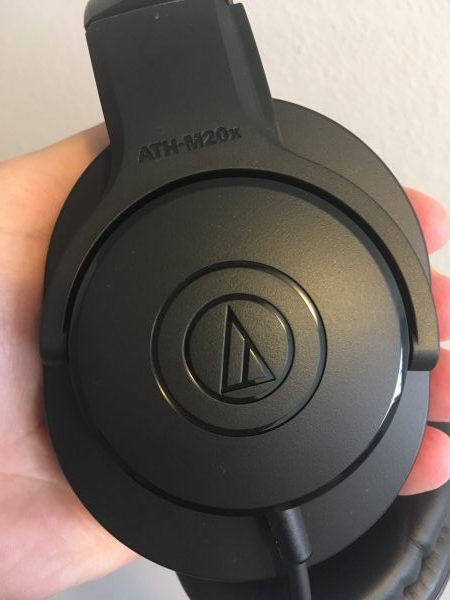 The headphones don't get any smaller from the higher end models and fit nicely over the ear, which often isn't the case with so called over-ear budget headphones that wind up being more like on/over hybrids. The pad and the faux leather are nice and comfortable.
The wire with the M20x is permanently fixed to the left headphone, and not removable like it is with the higher models. the cable itself is nice and sturdy and quite long at almost 10 feet, which almost becomes cumbersome for a lot of uses. I kept it mostly bundled in the twist tie while I used these at my desk.
The headphones rotate vertically on a standard c-bracket, and can rotate slightly outward only, by about 5-10 degrees, using a kind of carved out berth surrounding a cylindrical piece at the bottom of the band – it makes sense with a picture: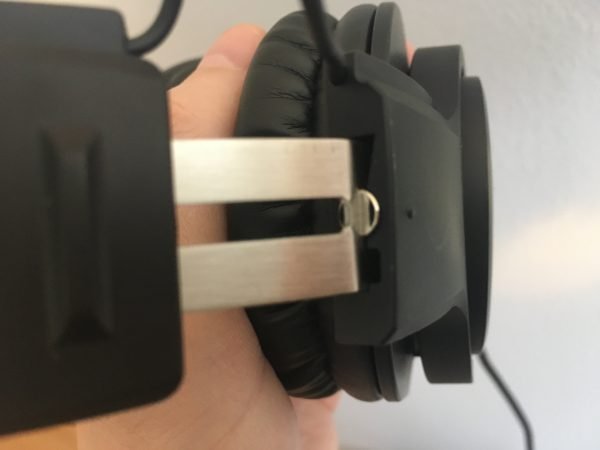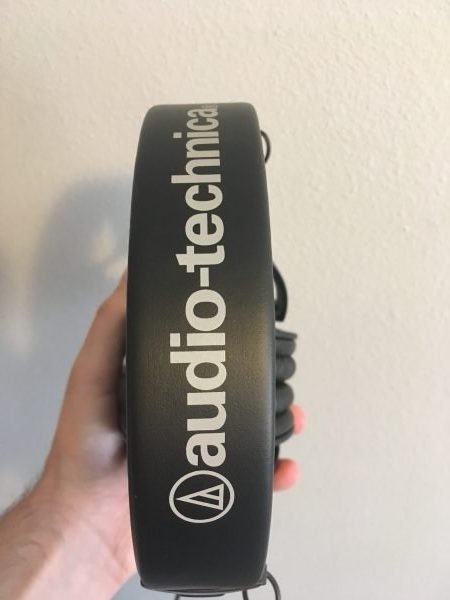 The headband is adjustable along an inner metal band that just kind of slides continuously rather than clicking. My one gripe here is that there are no indicator lines, which makes it kind of hard to ensure even length on each side. The wire to the right headphone has slack on each side to accommodate for elongation and is kind of exposed and unsightly.
The top band is a little more than an inch wide, and still has a decently thick pad underneath, but I still felt a very slight hotspot right at the top of my head, unless I pushed it kind of far forward. A little awkward, but perfectly fine.
Clamping force was firm but not too tight, which is to my liking. The bigger M40x in contrast definitely clamps down and really seals on the ear much more firmly and is a bit much for me.
The M20x manages to feel sturdy and not flimsy and cheap. No weird plastic creaking at all like is so common with similarly priced competitors.
Spec/Performance Discussion, Listening Impressions, Other Related Observations
I had particularly high expectations for these headphones and wasn't disappointed. The M20x had the same nice and even/consistent neutral response that the M40x has, and still befits being a so called pair of studio monitor headphones. It wasn't quite as full as the M40x and had a thin/boxy sensation that I could notice, but really only when I was a/b testing them by switching them over and listening to the same song parts. When I switched to extended listening of just the M20x I felt like my ear acclimated to it and they just sounded solid.
All in all, I really couldn't notice any significant specific flaws – the sound quality was, overall, very good for a pair of headphones as cheap as these are. Some songs had some weird quirks, but nothing near big enough to be any kind of deal breaker.
The response range of 15 – 20k Hz is a margin better than similarly priced competitors, and the bass sounded decent all in all, but it still couldn't quite get down there with full pitch/tone on some songs.
Volume capacity was fine, though the impedance on the M20x actually goes higher, 47 ohms, which is on the high side for budget headphones. Most devices should be able to handle these fine, and I don't think AT is intending people to pair a $50 set of cans with an amp, but you might have to crank the volume up more than normal.
The closed back on all the headphones in this lineup is fairly thin, and the M20x gives maybe a little noise isolation but not much. Definitely better suited for desk use rather than while commuting.
The M20x has the same two year warranty as the higher end models in the series, which is great coverage at this price tier – at less than $50 you're generally lucky to get up to one year of warranty.
Random specific listening notes:
Daft Punk; Give Life Back To Music – very even, great clarity, bass line was a little quiet but pitch/tone was there
Daft Punk; Get Lucky – sounded solid overall, no perceptible complaints
Daft Punk; Lose Yourself to Dance – bit of box, bass recession, but it still sounds good, probably the best this song has done with any budget headphone
An Endless Sporadic; Impulse II – nice and tight, no loss of clarity, orchestral instruments sound great, bass is actually fully there and audible, ending guitar solo came through really nicely
Trinity College Choir; Ubi Caritas – choral vocals a little flat, tenors/bass kind of recessed, upping volume didn't seem to help, otherwise sounded fine, not the best style of headphone for this specific type of music
Clean Bandit; Rather Be – violin/viola sounded on point, not harsh as it usually does with budget phones, female vocals a bit forward and harsh
Steely Dan; Peg – solid, great consitency, no perceptible complaints, other than upper hook chorus being just ever so slightly recessed
Steely Dan; Josie – bass a little quiet but still sounds good, chorus hook a little recessed again, same problem
Lil Wayne; A Milli – bass drop a little muddy/toneless, slight fatigue
The Chainsmokers; Wake Up Alone – bass drop was just recessed this time, tone sounded off, the rest of the song came through particularly nicely though, great clarity, female vocals sounded really good
Earth, Wind & Fire; percussion was a little forward and overpowering, was otherwise fine
No Doubt; Hey You – recessed bass, box sensation noticeable, trademark punchy no doubt guitar/bass sound didn't quite have that normal umph that I really like
Petit Biscut; Memories – beat had a weird thumpy sensation that was fatuiging, kind of distracted from the rest of the song
Rage Against The Machine; People Of The Sun – sounded fine, just noticeably underwhelming, not sure what the problem is here, vocals sound a bit recessed, percussion not quite there
Rage Against The Machine; Viet Now – instruments sound better, but vocals have the same issue as above
Rage Against The Machine; Know Your Enemy – same vocal issue, lack of instrument clarity, underwhelming overall, done trying to give RATM songs a chance. I re-listened to these three songs on the M40x just to compare and Zach De La Rocha's vocals still sounded very slightly recessed, it could just be this line of headphones with this particular production.
Rufus Du Sol; Sun Dream – sounded nice and smooth and consistent, but a little flat. No beat fatigue this time.
Rush; YYZ – lack of bass kind of took away from Neil Pert's legendary drumming in this song, good detail and clarity though, sounded pretty solid overall
Bob Marley; (various) – has pretty much failed miserably with budget headphones in my experience but definitely didn't here, sounded generally solid. Bob sounded great, female backing vocals were a bit thin.
AC/DC; (various) – sounded solid overall, no perceptible complaints
Overall Take, As Compared To The Competition
The M20x is a very solid sounding pair of headphones for the price, and has impressively even and consistent reproduction. They're also not cheap looking/feeling at all and are perfectly comfortable. For less than $50 they're very likely the best all around over ear headphones currently available. The higher end M40x does sound noticeably better and has that really full and complete sound, though, if you're willing to up your budget to $100.
Get the ATH-M20x on Amazon (affiliate link)