Written By Pete Anthony
  Last updated on: 3-15-19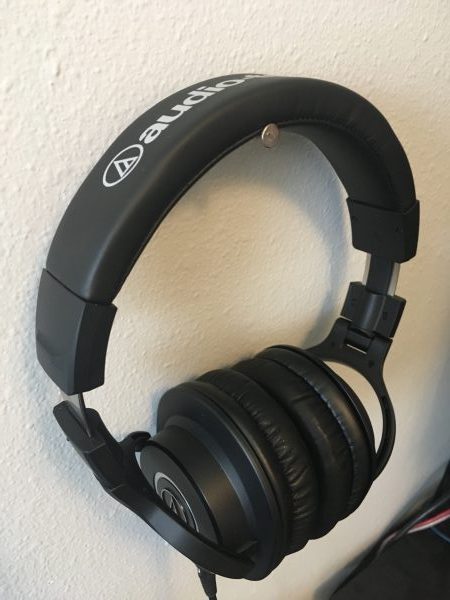 While there's now a lot of competition in the MidFi headphone market, Audio Technica is a niche company that's really made a familiar name for itself on par with the more heavily marketed brands. Their prepending AHT-M lineup consists of several professional grade over-ear headphones with closed backs, ranging from around fifty up to a few hundred dollars. The M40X is a middle-tier model that is currently regarded by many as the best sounding closed back headphones for around the $100 price point.
Comes in a nice sturdy box with plenty of padding, which isn't always the case with cheaper headphones and a potential shipping risk. Two included connection cables are male/male 3.5mm and 6.3mm jacks. They're nice and sturdy cables, and I wouldn't expect anything less from AT. The other male end of each cable is a ~2.5mm jack that plugs into the left headphones. You kind of have to push and twist it in to lock it into the headphone, which I struggled a bit to figure out before I saw the included instructional paper on how to do it, of course.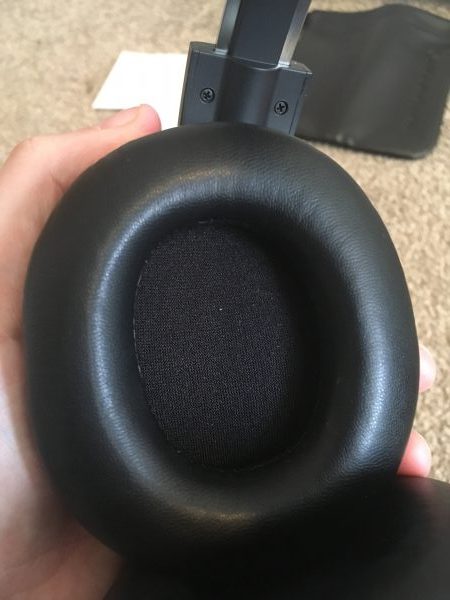 One initial annoyance I have with so called over-ear headphones is when they don't actually fit over my ear. These do and fit quite nicely on my head. I also wear glasses, and while I don't expect a headphone manufacturer to accommodate me and my specs, it's nice when a set of over-ear cans can sit comfortably when I keep my glasses on, and these definitely do. The pads are probably mock-leather but they look and feel very nice.
The headband also sits nicely on my head. Each side is adjustable with ~1/4 inch indicator marks. The band gives an audibly satisfying click both on the line and halfway in between. You can also see how each headphone can pivot horizontally Feels easy to get a right, even feeling fit.
These headphones fit pretty tight, a little too much so for me personally, but that might ease up with some break in of the headband. I know some people like a vice grip on their headphones, but I personally prefer a looser fit, up to the point where I can *barely* feel pressure against my head. Tight headphones kind of give the sound a "sealed" sensation for me that I dislike.
AT includes a nice soft carrying satchel. The headphones can fold inward to fit inside, once again with satisfying audible clicks.
Spec/Performance Discussion, Initial Listening Impressions, Other Related Observations
I've been using these on my desk for a few days so far, and my initial impression is that these sound really good, like they should cost considerably more than they actually do. The clarity is great – I can distinctly hear subtle background instruments that I couldn't, without really trying, on lesser headphones.
What's truly impressive though is just how even the sound is across the entire range. While words like "monitor" and "reference" have kind of lost their true meaning over the years due to being egregiously overused in marketing, these really do sound like professional grade monitoring headphones as Audio Technica claims they are.
One thing I personally like to do with headphones is listen to them rather quietly at first, then turn them up considerably and compare. I don't like it when headphones need to get loud to sound their best, but the ATH-M40x sounds great at mid-volume – it didn't seem like anything got muddy or any clarity was lost. Good headphones will kind of sound more full rather than harsh when you turn them up, and these did exactly that. Some of the midrange percussion like high hats and snare did start to feel a bit harsh and "hissy," for lack of a better way to describe it.
I plan to keep ATH-M40x on my desk for a while and use them as a benchmark comparison to many upcoming reviews, and I'll update this review with more detailed listening notes as I rack up more hours with them.
The quoted response range is 15 – 24k Hz which is excellent. The bass is totally there and I can't hear any obvious drop off or gaps. The sensitivity rating of 98
The impedance is rated at 35 ohms which is on the mid/low side and shouldn't necessitate a headphone amp. I've seen others say these might struggle with cheaper devices at higher volumes, but they ran perfectly fine out of my laptop's 3.5mm jack.
The noise isolation is not the greatest – if you're looking for a closed over ear headphone to help block out external noise there are probably better choices. These would also definitely be cumbersome in any "to-go" setting beyond sitting at a desktop and they're not really designed for that.
The ATH-M40x has a two year warranty which is quite decent, especially for how inexpensive they are, but not top of the line coverage.
Overall Take, As Compared To The Competition
These very well may be the best sounding headphones of the even/neutral monitoring style of sound at the price point they're at. There might be non-monitoring alternatives with a distinct style or color that make certain music sound a *touch* better if you plan on listening to something specific, but if you're looking for a high quality set of very well rounded headphones for your desk at the ~$100 price-point, the ATH-M40x is going to be hard to beat.