Written By Pete Anthony
  Last Updated On: 4-5-19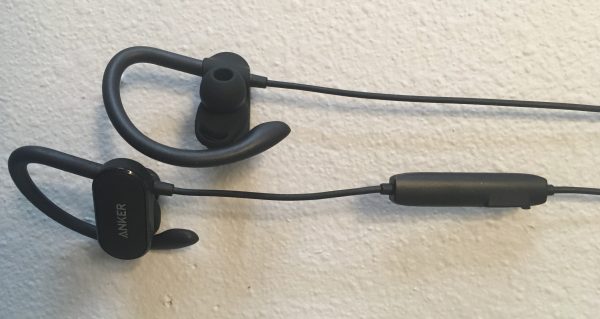 The SoundBuds Curve is an entirely wireless earbud – they're only connected to each other and there's no 3.5mm jack, so the only way to use them is via pairing to a Bluetooth compatible device. They're weather resistant and hold a ~14 hour charge, and also have the additional ear clips, making these ideal for physically active use like running, cycling, etc.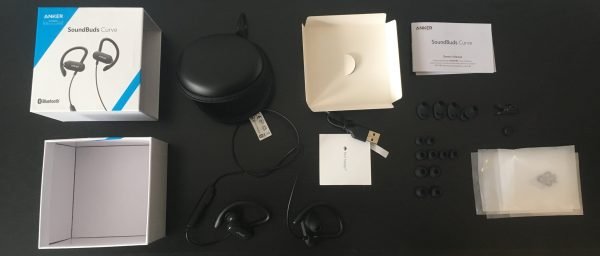 The packaging was nice – the inner box slides out to reveal a hard carrying case which holds the headphones. Below another packing piece is the manual, a micro usb charging cable, a wire shortener, a clip to secure them to your clothing, and a plethora of replacement tips.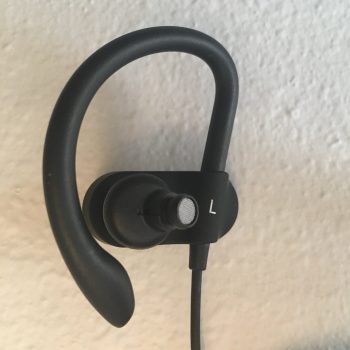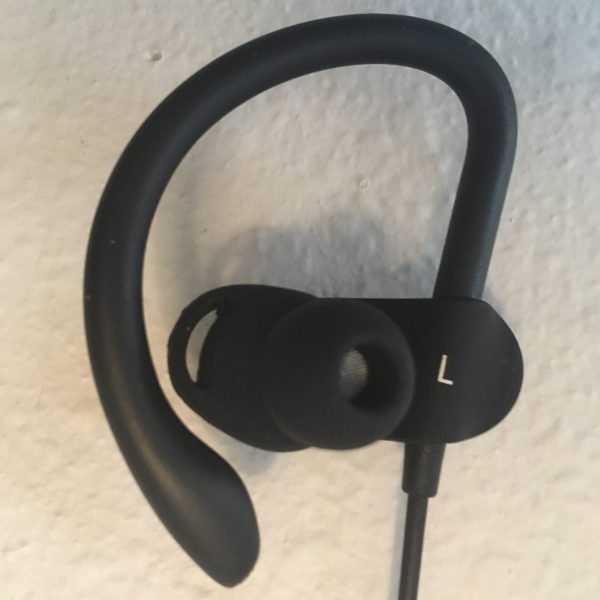 This earbud interestingly uses two tips, which explains why it comes with so many replacements. While the second tip does seem to help with the fit, I think its primary purpose is to help protect the driver from the elements or sweat.
All in all they fit very comfortably and securely, and between the ear clips and wire clip, I don't see how these can possibly fall out unless you got exceptionally unlucky, and even then they're not that expensive so it wouldn't be the end of the world.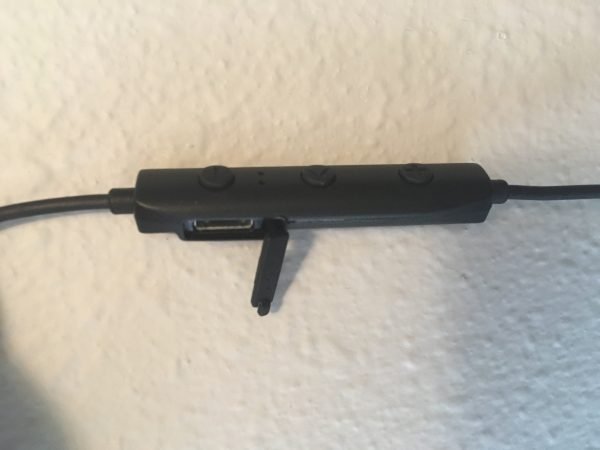 The mic is on the right side of the wire. There are three basic tracking and on/off call buttons, as well as a female micro usb input for charging.
All in all these are nice looking, well built, and solidly fitting earbuds for the modest price.
Spec/Performance Discussion, Listening Impressions, Other Related Observations
No 3.5mm jack which obviously means I had to charge them up first before giving them a whirl, but that only took a little over an hour.
When I turned on the Bluetooth and paired it with my phone, there was audible background static, which is an annoying effect that sometimes happens with wireless headphones. It wasn't as bad as I've seen it with other headphones, and I stopped noticing it with all but a few classical songs that had significant lulls in them.
The overall sound signature was good – none of the typical issues with cheap headphones like sibilance, thinness, and boxiness were detectable. The response curve sounded nice and even and consistent.
The bass was very strong and emphasized – these are definitely bass lovers' headphones. There was feelable resonance and thumpyness with a lot of percussions and EDM beats, which isn't a sensation I particularly like while others seem to love it. The quoted response range is 20 – 20k Hz, which is average for budget headphones on paper, but the bass extension sounded surprisingly good – various drops came in strong and didn't lose volume, though there was some muddiness, bass bleed, and feelable fatigue in multiple instances.
Though these are advertised as noise cancelling headphones they're not really, and are rather merely isolating headphones. There's some isolation but only enough so I'd think to block out ambient noise.
Anker offers an 18 month warranty on the SoundBuds Curve which is quite good coverage for this type of product at the price-tier its at.
Random specific listening notes:
Daft Punk; Give Life Back to Music – percussions are very thumpy, feelable resonance, backing guitar during vocals is recessed
Daft Punk; Get Lucky – same thumpy percussion, loud muddy bass, kind of distracted from mids/trebles
Daft Punk; Lose Yourself to Dance – bass/percussion overpowered the song, feelable resonance/fatigue
An Endless Sporadic; Impulse II – sounds pretty good overall, bit of bass bleed that muddles mid/low detail, end guitar/bass combo sounded particularly good
The Choir of Trinity College; Ubi Caritas – could hear the background bluetooth static here, chorals otherwise sounded nice and smooth and warm, a little lack of detail/clarity though, kind of blended together
Clean Bandit; Rather Be – beat was very strong once again, but the resonance wasn't there, actually sounded solid. Female vocals sounded great, not at all harsh. Bit of bass bleed when the song got denser during the choruses and later verses. Strings sounded nice
Steely Dan; Peg – low percussions had a bit of thump that was slightly distracting, but song otherwise sounded solid, nice and even. Vocal hooks sounded good
Lil Wayne; A Milli – drop totally overpowered the rest of the song, fair amount of mud, little fatigue but not as bad as I thought it would be
The Chainsmokers; Wake Up Alone – intro sounded really good, good female vocals, but the bass/beat was a bit overpowering. Drop was very strong and solid, didn't fall off, notes lost a slight bit of pitch
Earth, Wind & Fire; September – sounded solid, no specific/perceptible complaints, mid strings and brass came through nicely which usually doesn't happen with budget headphones
Deadmau5; The Veldt – beat had that same thump, but it didn't overpower the song. This sounded solid all in all
Metallica; One – beginning guitar sounded really good, little muddy percussions and recessed vocals. Distorted guitar sounded good, definite resonance and fatigue though
Pantera; Cowboys From Hell – bit of lack of detail/clarity, but otherwise sounded pretty solid
Ludovico Einaudi; I Giorni – could hear the Background bluetooth static here again, bit of bass bleed once the cellos and bass came in, but otherwise sounded solid. High strings and piano sounded good
Nas; The World Is Yours – backing track took a definite back seat to the beat, but it sounded good. Nas was a little quiet but otherwise sounded good
No Doubt; Hey You – sounded solid, had that nice No Doubt punchy guitar, little bass bleed on the choruses
Petit Biscuit; Memories – beat was very thumpy and fatiguing, but the song otherwise sounded good
Rage Against The Machine; People of the Sun – sounded solid, no perceptible complaints
RÜFÜS DU SOL; Sundream – thumpy beat, otherwise sounded solid
Rush; YYZ – detail and clarity was surprisingly decent, Peart's drumming sounded solid, little bass bleed on a few parts of the song
Vanilla Sky; Umbrella – sounded solid, no specific/perceptible complaints
Overall Take, As Compared To The Competition
The SoundBuds Curve is a comfortable, sturdy, and decently sounding pair of earbuds for the modest price, and are definitely a viable option for those who want wireless and plan to use them while being physically active. The bass is definitely emphasized and feelable, which some people like while others don't. Keep in mind these don't have a 3.5mm jack and are only usable via Bluetooth
Get the SoundBuds Curve on Amazon