Written by Pete Anthony 
Last updated on:
Specs at a glance:
max volume: 87 dBC
frequency response: 75 – 20k Hz
weather resistance: IP67 certified dustproof/waterproof
weight: ~15 oz
height: ~4.1 in
width: ~3.75 in
wireless: Bluetooth, ~100 ft range
max battery life: ~13 hrs
full charge time: ~3 hrs
Comes in a hard cardboard box with fitted packing pieces. Seemed reasonably secure on arrival. Accessories are in a small flimsy container inside.
Included with the speaker:
usb charging cable
quick start pamphlet
warranty pamphlet
warning card (don't charge when wet)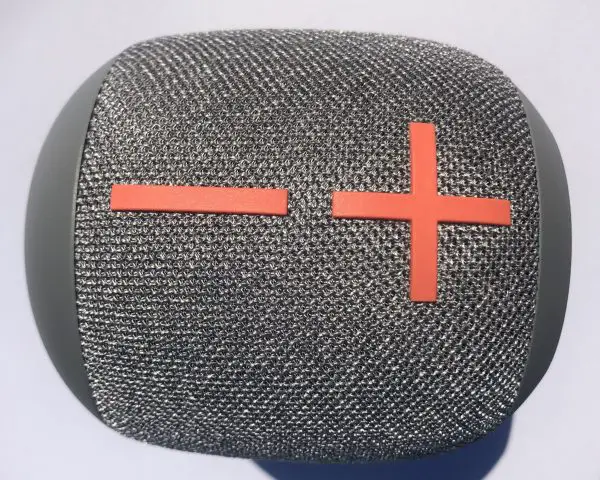 Wireless pairing button, play/pause/track button, power button from top to bottom respectively.
The Wonderboom 2 is simple, easy to use, easily portable, and all in all convenient – everything you'd basically want out of a Bluetooth speaker. It's fully waterproof up to a few feet and actually floats – kind of neat but I don't know why anyone would ever want to put an omnidirectional speaker in the water. The hook loop is a nice touch too. Plugging in the charging cable is a bit of a pain. It also comes in a variety of colors, though the variants seem to run a little more or less expensive based on demand and stock. There are also separately sold hard cases if you want one.
Check the Wonderboom 2 out more on Amazon
Sound And Performance
General impression:
The Wonderboom 2 has big and full sound that belies it's modest size. I'd wager most people looking at sub $100 weatherproof Bluetooth speakers are primarily concerned that something is easy to bring around and durable, and that as long as it sounds decent that's good enough. The Wonderboom 2 definitely accomplishes that.
Any significant issues:
None that I could find.
Sound signature/response curve:
Kind of round/warm, which is a good bias because outdoor sound has a propensity towards thinness and sibilance. The bass drops off, which is to be expected with a smaller product of this kind, but the curve feels decently flat and consistent throughout.
Sound staging:
The Wonderboom 2 has an omni-directional cylindrical design that uses four woofers, and I can say that the sound remains consistent while circling the perimeter. It also has the ability to pair with a second unit and switch to stereo from mono. On it's own, the sound doesn't have the separation that a solid 2.1 system will have, but, again, it sounds decent enough for an inexpensive weatherproof speaker.
Bass:
The reality is that you're never going to get excellent bass out of a small speaker that's sealed, because bass woofers simply need to be big to reproduce good bass. The quoted response floor is 75 Hz which is actually pretty comparable to a decent bookshelf speaker. That said, there is noticeable drop-off when comparing this with monitors or even other bigger and/or more expensive Bluetooth speakers. In the context of A/B testing the Wonderboom 2 sounded kind of narrow and collapsed in on the low end. But would the target consumer, a layperson who just wants "decent" sound without breaking the bank, really notice this? Probably not – after all when I listened to this more extensively on my own the response curve felt decently flat and consistent as I said.
Power/Volume:
The Wonderboom 2 got plenty loud for me – I didn't need to put the volume to more than 30% at ten feet or so. I'd say it's perfectly sufficient for smaller gatherings, but it might struggle in larger spaces with more crowd.
Warranty:
Two years, which is very good coverage for this type of product at the sub $100 price-point. One year seems to be the usual standard.
Overall Take, As Compared To The Competition
If you're looking for a non-expensive weatherproof Bluetooth speaker that's durable, easy to bring around, and sounds decent enough, the Wonderboom 2 is an excellent choice. It might be the best choice in fact – I've yet to find a comparable product that sounds better for the price. If you want higher end sound with full bass, you're going to have to go with something that's bigger and probably significantly more expensive.