Written By Pete Anthony
  Last Updated On: 3-20-19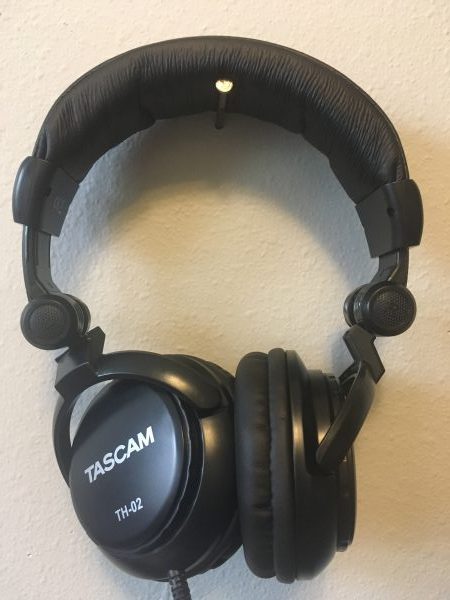 Tascam makes a wide variety of a/v equipment and a limited number of desktop headphones and speakers, including the very inexpensive over ear closed back TH-02s.
Packaging was perfectly adequate for budget headphones. The box was sturdy enough and opened without fuss. The headphones were housed in a fitted piece of plastic but not wrapped, though the wire was. The box includes a manual and a 6.35 mm jack adapter which snaps on if you want to use that input, and that's it. There's no carrying case.
The pad is circular but large enough to fit over the back of my ear, though kind of rests on my tragus (google it), so really it's more of an on/over ear hybrid. The pad is a bit on the small side but has nice enough faux leather. The headphones pivot vertically by a c-joint and can also rotate vertically and horizontally by a sort of dual joint that I don't know the name of. The 3.5mm wire is permanently fixed to the left headphone, and is actually quite long, almost around 10 feet.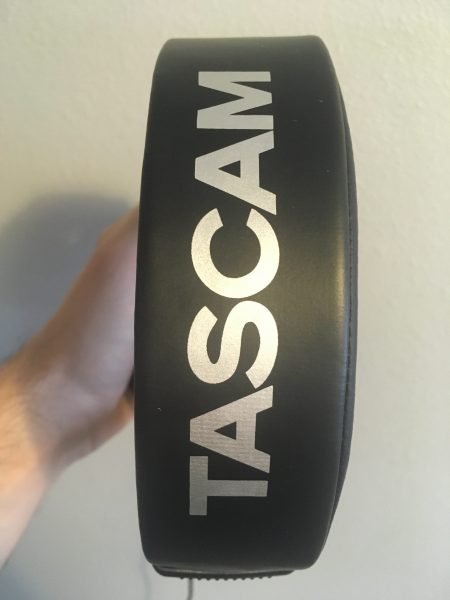 top of the headband is a little less than two inches thick, has a slight foam pad that's covered with that really thin wrinkly cheap faux leather, not the same as the pads interestingly. The inside band is another piece of plastic with increment lines. One side seemed to click more firmly into place than the other and it took a little finagling to get it into place, but once it was set it seemed stable enough on my head. It definitely looks and feels kind of cheap and I'd be worried about it being the point of breakdown, and there's nothing more tilting with headphones than a broken headband that slowly elongates and doesn't stay put.
The clamping force was medium-light, which I personally prefer, and all in all I could these fit pretty nicely and comfortably, mainly thanks to three adjustment points on each side.
They look and feel decent enough, albeit a little light, flimsy, and cheap, but… they are really cheap so, yea. At least they don't look so childish and tacky like some of the other clunky budget over ear headphones do.
Spec/Performance Discussion, Initial Listening Impressions, Other Related Observations
I always wince a bit when I fire up that first song with cheap headphones, but, I have to say… these sounded surprisingly really decent out of the gate, better than any other less than 20 dollar headphones I've listened to in recent memory.
The overall sound quality was a little thin and far away, and also had that boxy sensation like if you cup your hands over your ears, but was overall consistent and even sounding. No glaring flaws initially perceptible.
The response curve definitely feels like it has an upside-down U shape rather than being flat. Bass and high trebles were recessed while midranges felt a little overpowering at times, but this style of sound can lend itself better to certain types of songs and worse to others. Tascam quotes the response range at 18 – 22 Hz, which is better than average with budget over ear headphones, but there's definitely some drop off on each end.
The boxy sensation made the percussions a little hissy.
Though the bass was a bit quiet and recessed it sounded surprisingly decent, tone was there for the most part.
They got pretty easily loud with lower than average volume on my device. The impedance is 32 ohms which is fairly average – most devices should power these just fine, and I don't think any company making such cheap headphones is thinking users will be using a headphone amp with these.
The noise isolation was practically zero, so if you need to block out external noise these might not cut it.
Tascam offers a one year warranty on its headphones which is pretty bare minimum, but about what you can best expect for something as cheap as the TH-02
Random specific listening notes:
Daft Punk; Give Life back to Music – percussions are a little hissy, bass is recessed but otherwise sounds OK
Daft Punk; Get Lucky – percussion issue is more noticeable, feels boxy, like hands cupped over ears
Daft Punk; Lose Yourself to Dance – bass is definitely sub par, recessed, little muddy, barely noticeable resonance
An Endless Sporadic; Impulse II – felt a little lack of clarity, mainly due to the sibilance in percussions, but sounded pretty solid over all, consistent and even, no significant flaws
Trinity College Choir; Ubi Caritas – choral vocals pretty smooth overall, treble came a little bit foward and harsh on high notes
Clean Bandit; Rather Be – boxy sensation very apparent, didn't sound that great
Steely Dan; Peg – synthesizer felt overpowered, U shape apparent, "Peg" chorus came in cluttered and harsh, same problem as before
Lil Wayne, A Milli – drop sounded surprisingly solid, just a little recessed and lack of pitch
The Chainsmokers, Wake Up Alone – U shape very apparent, female vocals and higher synth percussions overpowering, too harsh. Drop wasn't as good, but not terrible, recessed and more lack of tone, seemed to almost bravado kind of, weird sensation
Ludovico Einaudi; I giorni – sounded solid, all classical instruments came through nicely, the U shape leds its strengths to this kind of track, high violin notes had a bit of hiss
Nas; The World is Yours – didn't sound good, beat was muddy, vocals very boxy
Rush, YYZ – all that great Neil Peart percussion UMPH of this song just felt lost, underwhelming, but clarity felt there at least
Earth, Wind & Fire; September – sounded solid overall, higher percussion was a little harsh and forward
Bob Marley; (various) – bass was a bit muddy and resonant but was listenable
Overall Take, As Compared To The Competition
For less than $20 these are impressively good sounding headphones that don't have any significant or deal breaking specific flaws. They're reasonably comfortable too, but do feel a bit flimsy and cheap. If you don't need extra features and are looking for a pair of headphones that sounds as good as possible while being as cheap as possible, the Tascam TH-02 is very likely the best choice for the time being.
Get the Tascam TH-02 on Amazon
See our current picks for the overall best budget over ear headphones