Written by Pete Anthony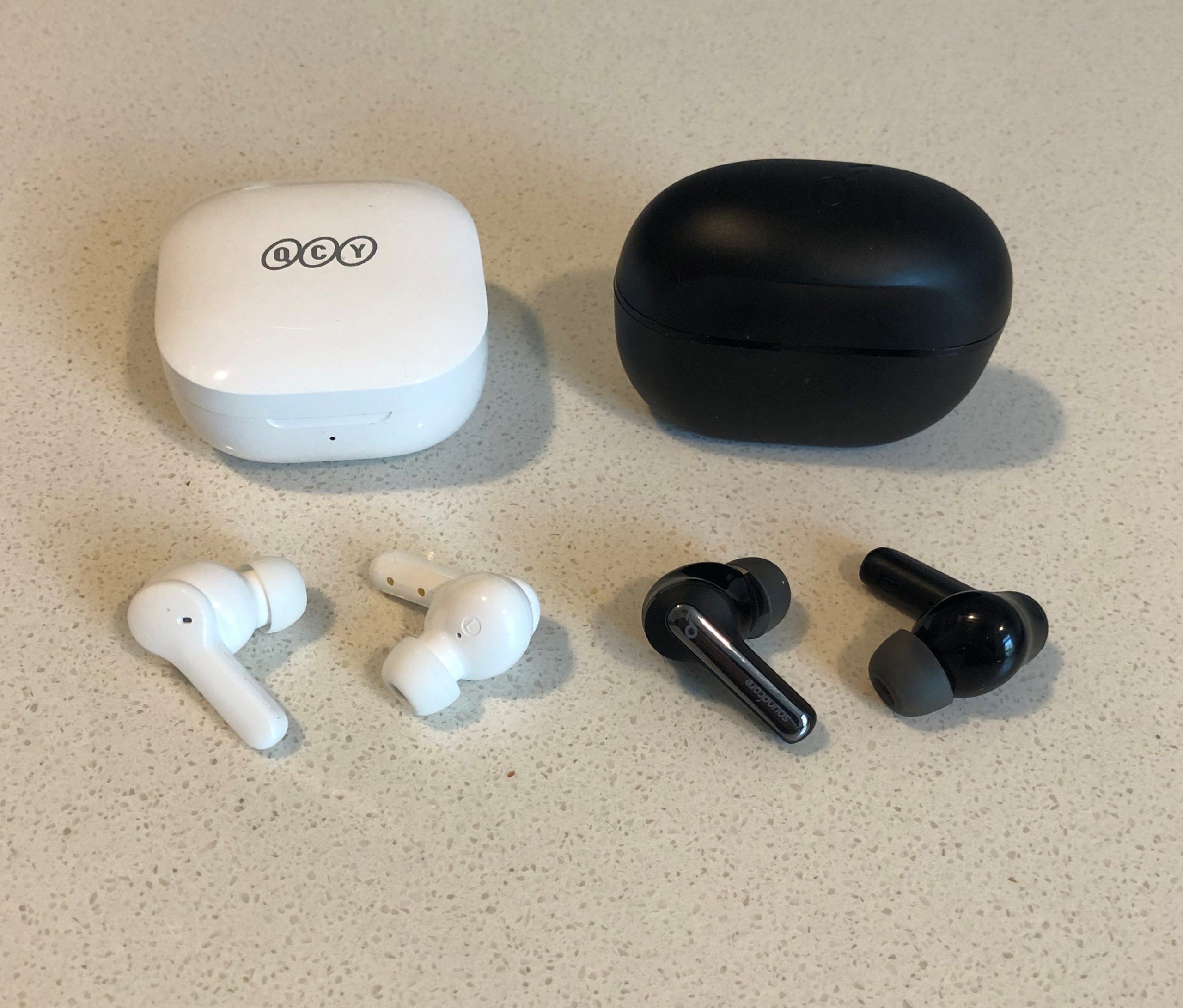 Soundcore is the newer audio subsidiary of Anker Electronics, which has become quite popular in recent years for their variety of earbuds, headphones, and portable speakers. QCY is a lesser known audio company, but their parent company, Hele Electronics, has collaborated with a lot of big name brands. QCY earbuds are starting to gain acclaim and popularity in the audio community as well.
The T13 is currently QCY's most popular wireless earbud, and the Life 3Pi from Soundcore, which has also become quite popular, is a very similar stemmed style wireless earbud. How do the two measure up to each other? is one decidedly better than the other? I have fully reviewed both products and will answer those questions here in this comparison article.
QCY T13 vs Soundcore Life 3Pi Side by Side at a Glance
How Are the QCY T13 and Soundcore Life 3Pi Similar?
Design style – both the T13 and Life 3Pi use the very common and popular uncontoured ovoid housing and stemmed design, and they are very similar in shape, size, and weight.
EQ app/customization – both the T13 and Life 3Pi are compatible with their respective company's EQ app, and can have their touch controls and sound profile fully customized.
What Are the Main Differences Between the QCY T13 and Soundcore Life 3Pi?
Driver size – both the T13 and Life P2i use a single dynamic driver design, which is the most common for budget earbuds in general, but the T13 has a 7.2mm driver while the Life 3Pi has a 10mm driver. I think ~6mm single drivers do a better job with all around sound quality than larger ~10mm single drivers do, which tend to be a little loose and bassy and can't quite tighten up the detail as well.
Noise attenuation – both the T13 and Life 3Pi have relatively OK natural isolation, especially so for their stemmed style design, but the Life 3Pi has active noise cancellation which, if turned on, makes their overall noise attenuation top tier for their price-point. The Life P3i also has a transparency mode.
Weatherproofing – the T13 has IPX5 certified water resistance (up to moderate splashing), while the Life P3i curiously does not have an IP code at all, which is something I rarely see. I imagine the 3Pi is still OK against some ambient moisture from exercising and such, but I wouldn't risk it against anything more than that.
Battery life – the Life 3Pi has slightly more purported battery capacity on a single earbud charge (9h) than the T13 does (8h). However, the total purported battery capacity with case of the T13 (40h) is slightly better than that of the Life 3Pi (36h). The battery life of the Life 3Pi will go down considerably from what is advertised if ANC or transparency mode is on, though Soundcore doesn't specify by how much.
Case – the Life 3Pi case is a little more ergonomic and sturdier feeling than the T13 case is, which is also a little dated looking with the cornered edge on the top side. The Life 3Pi case also has a nice little ridge that makes opening the lid really easy.
Bluetooth version – the Life P3i has Bluetooth v5.2 while the T13 has slightly older and now dated Bluetooth v5.1. This won't realistically make a difference in sound quality, but might give the Life 3Pi better battery efficiency and signal range.
Warranty – Soundcore offers an 18 month limited warranty on all its headphones, which is slightly better than QCY's one year limited warranty, which is the much more common minimum that's usually offered with budget headphones.
Does the QCY T13 or the Soundcore Life 3Pi Have Better Fit and Comfort?
Both the T13 and Life 3Pi fit comfortably and securely, though the T13 seal does break for me if I smile wide enough. Though the Life 3Pi seal doesn't have any breaking problems, the fit is a little heavier and outward feeling but also a little more deeper and pressurized, which I personally tend to prefer.
Overall I'd say the Life 3Pi fit is a little better, but the T13 does have a very nicely light, shallow, and overall casual feeling fit that I think some people want, especially if you don't mind if the seal breaks a little here and there.
A note before the next section: this page describes how I evaluate the sound quality of headphones and earbuds.
Does the QCY T13 or the Soundcore Life 3Pi Sound Better?
Overall, the T13 definitely sounds better out of the box, mainly because Soundcore's default "signature" tuning is just not good, and I've talked about this issue quite a bit in my various and more recent Soundcore product reviews. QCY's default tuning and style, on the other hand, is quite good, and in an unusual way – they do a nice job of achieving a nicely warm and soft casual sound while maintaining decent balance and clarity.
That said, the Life 3Pi is compatible with the Soundcore app, one feature of which is creating custom EQ profiles, and I was able to mostly mitigate the P3i's default tuning issues and improve their overall sound considerably with some basic EQ adjustments. You can read what I did fully in my Life P3i review, linked at the end.
I still think the T13s sound a little better though, and they too can be customized and improved in the same way with their own EQ app. The T13 have that very nice airy sensation while the P3i's sound a little thin and sucked out in comparison. But could the the Life 3Pi sound as good or better than the T13 with enough EQ tweaking? It's certainly possible on a subjective basis.
Which Should You Choose Between the QCY T13 or Life P3i?
I don't think there's a clear winner here, because each excels in different ways. If top tier noise attenuation/cancellation and secure fit is your priority, then the Life 3Pi is definitely the superior choice, and an overall great one at that for its price. If you do get it though, I strongly recommend adjusting it with Soundcore's EQ app, or just pick a different pre-set at a minimum, because the default tuning is just not very good.
Fidelity wise though? I'd say the T13 wins, and they continue to impress me (along with other QCY earbuds) whenever I listen to them. But with it you only get relatively OK natural isolation, and a shallower fit that's prone to seal breakage.
Get the QCY T13 on Amazon (affiliate link)
Get the Soundcore Life 3Pi on Amazon (affiliate link)
Relevant Articles
• Full QCY T13 review
• Full Soundcore Life P3i review
• Our current picks for the overall best budget true wireless earbuds