Written by Pete Anthony 
Last updated on:
Philips is a well known and prolific electronics company that produces a wide variety of consumer products, including a bunch of budget to high end headphones. The SHE3590/3595 is one of their most popular offerings, a very inexpensive earbud that, purportedly by many, has great quality that sounds more expensive than it is. The only difference between the appending 3590 and 3595 versions is that the latter has an added in-line mic.
Packaging was a pretty basic plastic sleeve. It took a little effort but I was able to pry it open without any tools, though not without ripping it a bit. The headphones are secured in a contoured piece of inner packing plastic and popped out, which also took a bit of effort because they were pretty snug. Two different sized replacement pads also come in a separate baggie.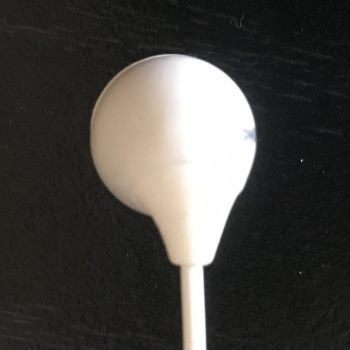 Not the best pictures ever here but you get the idea – the headphone is circular and symmetrical all around, so the pads are relatively easy to swap out and you can wear them inverted if you want to do the wire-over-ear trick to reduce microphonics, that's pretty much all you need to know.
The 3595 version has the in-line mic on the left headphone with a single mute button, pretty much basically sufficient for dealing with basic calls without having to unplug your earbuds.
The wire itself is relatively thick and sturdy for a budget earbud, and has singular insulation below the joining point so that neither side can peel away from the other.
Check them out more on Amazon (affiliate link)
Spec/Performance Discussion, Listening Impressions, Other Related Observations
I was mainly interested in giving these a whirl because they're currently the only ~10 dollar earbuds that are endorsed on the headphones subreddit, and I did think they sounded generally solid, absolutely passable for basic home or commuter use.
There weren't any glaring specific flaws in the overall sound quality, just a little thinness and some sibilance on various percussions. The overall response felt pretty even and consistent
Though these are seemingly touted as headphones with strong bass and the quoted response range is fairly decent at 12-23.5k Hz, I didn't get that impression at all. Bass lines and various drops were pretty recessed and these sounded about on par with other budget headphones with less emphasized bass.
The sensitivity rating of 103 is quite good though – these can get very loud quite easily if that's your thing.
There's also fairly decent noise isolation as well, probably to the tune of 20% or so if I had to poorly ballpark it.
Philips offers a one year warranty on all its headphones, which is decent coverage for earbuds that are as cheap as these.
Overall Take, As Compared To The Competition
The SHE3590/3595 is a sturdy and comfortable pair of earbuds that sounds decent, absolutely enough so to be passable for basic use. Competition is stiff in this category now, though, and there are similarly priced alternatives that I do think sound noticeably better, though they might not be as comfortable or versatile.