Written By Pete Anthony
Last Updated On: 3-21-19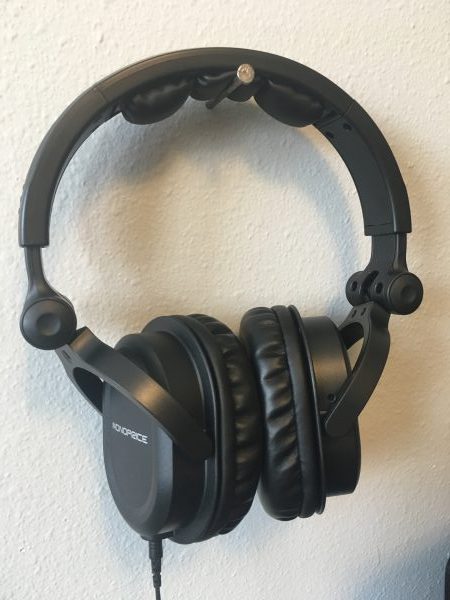 Monoprice is a relatively new general consumer electronics company that produces an extensive variety of products and accessories. While they're not a dedicated audio company, they have produced a few speakers and headphones that are very performant for the price and have earned spots on various best-of lists. Their numerically named 8323 headphones are currently one of the cheapest over-ear headphones they offer.
The box was decently sturdy and opened easily enough. There's a single piece of packing plastic contoured to the headphones that also has a slot where the included 6.35 mm jack adapter was in. The two connection cables were just kind of hanging out in the back of the box behind the packing piece. One cable is a very thin ~5ft standard 3.5mm connector, and the other is a thicker and slightly thicker and better looking/feeling cable with an in-line mic, so I don't know why you'd even use the former. No manual or other literature was included which is kind of strange, but not a big deal as long as you can find it online. No included carrying case either. With cheap audio products all I really care about is the product feeling secure on arrival, and these did, so it gets a pass
The headphones are a bit narrow and didn't actually fit fully over my ear, they seem more like an on/over hybrid. The best fit for me had them sitting behind my ears and on my lobe and tragus (google it). The pads and faux leather feel pretty decent.
The headphones rotate vertically on a standard c bracket, which is then housed in a sort of dual cylinder joint thing that I don't know the name of. The c bracket can also pivot up and down and rotate horizontally, so the headphones are very malleable for getting the right fit.
The left headphone has a 3.5mm plug, so you can easily replace the cable if it breaks which isn't always the case with cheaper headphones.
the headband is pretty basic – the adjustable sides are actually the same piece as the cylinder joint. No indicator lines so getting even length on each side is a bit cumbersome, I usually just count the number of clicks. The adjustable bands feel sturdy enough.
The top of the headband is just another plastic piece with three separate pieces of basic padding. This was the first serious issue I had with these headphones – when I pulled them apart to put it on my head the adjustable bands didn't seem to give at all, and the whole thing let out an unsettling cheap plastic sounding creak, and the pieces started to separate at the bottom. It honestly felt like I was going to snap these off at either joint where the adjustable band connects to the top headband. The results in a really awkward shape when these are stretched out:
The top of the headband had a significant hotspot which caused that awful type of pain pretty immediately that lasted after I took them off. Not good. The top piece actually starts to bend back downward if you pull the headphones far enough apart. Clamping force was otherwise a bit tight for me, but I do prefer a firm but looser fit.
All in all the headphones have a somewhat cheap, plasticy feel but do feel reasonably sturdy.
Spec/Performance Discussion, Listening Impressions, Other Related Observations
The overall sound was OK but not particularly great. Boxy factor was pretty significant, like when you cup your hands around your ears, giving the overall sound a kind of thin and narrow feel.
The response felt pretty even overall but definitely had drop off at either end. Trebles were definitely recessed.
Bass was generally OK but a little muddy. Feelable resonance sometimes on specific songs.
Percussions sounded quite good overall, but had specific issues on certain songs.
The quoted frequency response is 20 – 20k Hz which is pretty average and consistent with my above impressions.
These headphones do get decently loud – the impedance is 40 ohms which is a bit on the high side but any device should be able to power these just fine. I don't think Monoprice expects people to be using headphone amps with sets that cost less than 25 dollars.
There's a little noise isolation but not much, about what one can reasonably hope to get for the inexpensive price.
Monoprice headphones, including these, generally come with a one year warranty which is minimal but about what one can reasonably expect with budget headphones.
Random specific listening notes:
Daft Punk; Give Life Back To Music – background guitars recessed, emphasized midrange for sure but it isn't harsh, bass a little muddy but tone/pitch is there
Daft Punk; Get Lucky – boxy sensation very apparent at start, otherwise sounds good and consistent
Daft Punk; Lose Yourself to Dance – bass is bad, muddy, feels like it just morphs from tone/pitch into resonance which I can really feel
An Endless Sporadic; Impulse II – lost clarity on denser parts, percussions and orchestral instruments did both sound good on calmer parts of song, can barely hear background organ with treble recession
Trinity College Choir; Ubi Caritas – classical vocals sounded nice and warm, but kind of blended together
Steely Dan; Peg, Josie – can't think of any specific complaints, sounded good and consistent overall
Lil Wayne; A Milli – drop wasn't terrible, but the bass has no tone or pitch
The Chainsmokers; Wake Up Alone – again, not a terrible drop, but same lack of bass tone/pitch, background treble instruments feel missing
Earth, Wind & Fire; September – sounds decent overall, just narrow and boxy, background orchestral/brass are barely there and missing once again
Ludovico Einaudi; I giorni – general lack of clarity, classical instruments felt a bit blended together
Nas; The World Is Yours – actually pretty good overall, beat was solid, little resonance and mud though
Rage Against the Machine; People Of The Sun – just felt thin and underwhelming, not sure where everything dissapeared to
Rage Against the Machine; Take The Power Back – sounded quite a bit better, still a bit boxy, guitar solo managed to come through solidly though
Vanilla Sky; Umbrella – same problem, where did this song go? bad sibilance too. Turning volume up just makes boxy problem worse
Pantera; Cowboys From Hell – pretty much unlistenable, very bad boxiness and sibilance
Deadmau5; The Veldt – quite decent overall, can't think of any specific complaints
No Doubt; Hey You – Gwen Stephani felt moved to the back, like she was standing a few feet from the mic, normally signature No Doubt punchy guitar sound just instead sounded kind of harsh, song just sounded kind of weird and off
Overall Take, As Compared To The Competition
The awkward headband and resultant hotspot at the top alone is enough to give these a pass – It was uncomfortable enough that I had to intermittently take them off while doing my listening tests. Besides, the overall sound quality just wasn't all that great, and while some songs sounded decent, others had significant enough flaws to basically be rendered unlistenable. Even though the 8323s seem to have been considerably discounted from their MSRP, there are still similarly priced alternatives in this now highly competitive niche that both sound and feel better.
See the Monoprice 8323 on Amazon (affiliate link)