Written By Pete Anthony
Last Updated On: 3-24-19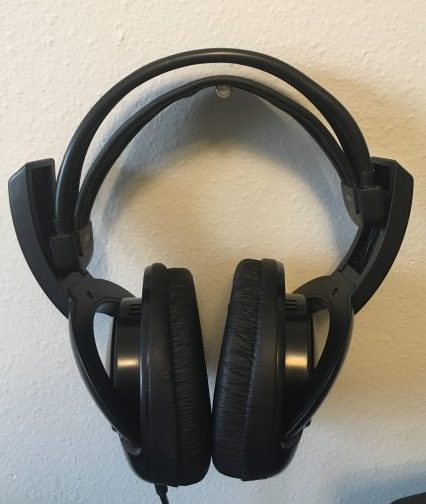 Koss is the eponymous audio company started by John Koss, who's been a notable innovator in the headphone world since the 1950s. Today, the company makes a wide variety of very inexpensive up to high end headphones. The UR20 is their least expensive budget over ear pair of headphones, which we've now seen go for less than $20 dollars.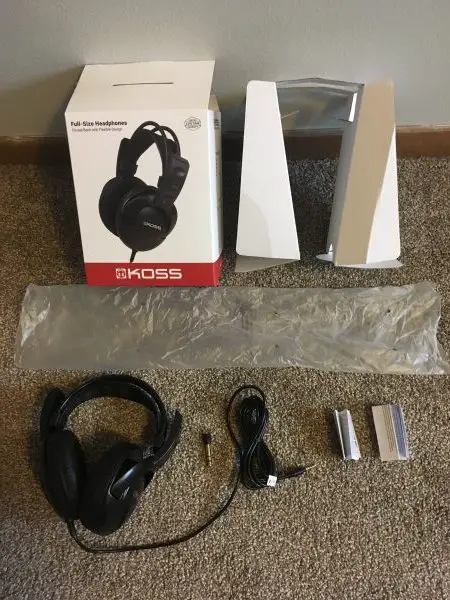 The packaging was very solid for such a cheap pair of headphones. The box is nice and sturdy and opened easily enough. Inside the headphones were wrapped in a single long sleeve of plastic and embedded in a contoured piece of cardboard that ensured the headphones couldn't move around. With budget headphones I'm pretty much just looking for packaging that will keep them protected, and Koss definitely gets a pass there with the UR20. Included inside is a detachable 6.35 mm adapter jack and a small warranty card and that's it. No carrying case is included with these.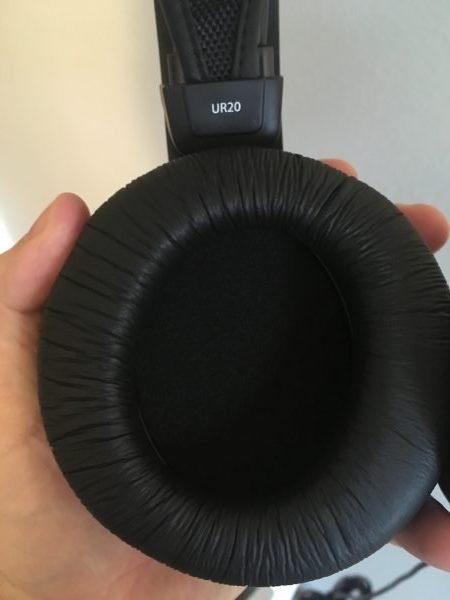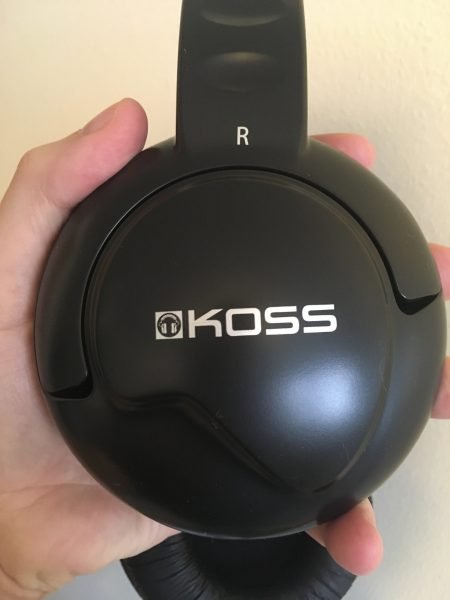 The headphones are huge, they fit over my ear and then some. The pad is deep and decent feeling enough but the faux leather is that really thin and wrinkly stuff that has a propensity to start peeling off and flaking.
The headphones can only rotate vertically via a standard c-joint, but the headband is flexible enough that they have some horizontal give in each direction and can fit easily enough.
There are no on-board controls, and the wire is permanently fixed to the left headphone. The wire itself is thick and sturdy enough and 8 feet long.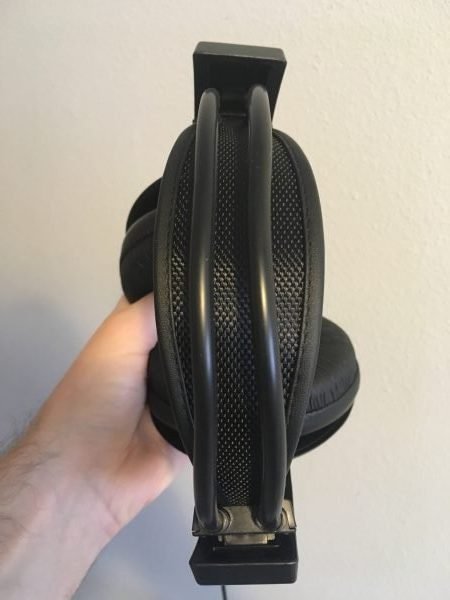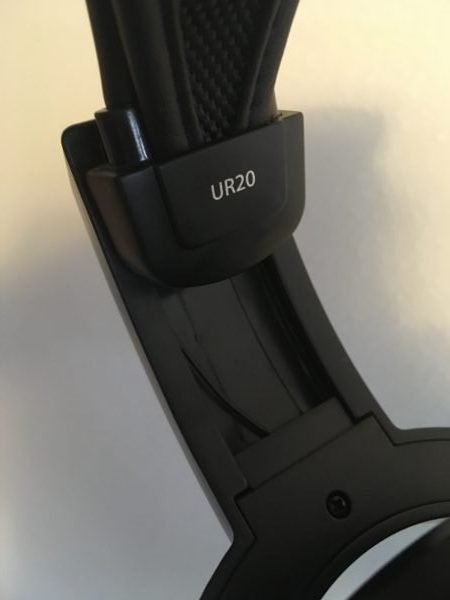 The headband is peculiarly adjustable along the inside of the c-brackets which kind of extend out into devil horn looking things. You can see the incremental slots but you have to kind of peer inside, but at least you can ensure even length that way. The headband itself is soft woven cloth as well as two elastic band things. It's nice and malleable, but the clamping force is very light, even for my taste. This unfortunately kind of compounds on how big the actual headphones are, and they don't get an adequate seal on my head and would slide and shift a bit sometimes when I move my head around. the cloth band also has a bit of a hotspot on the top of my head.
They're sturdy and comfortable enough, but the overall build kind of has a light and cheap feel to it. Pretty much what one could hope to maximally expect for spending less than $20 on over ear headphones. They're so big and bulky yet flimsy that I wouldn't want to ever use these as commuter headphones
Spec/Performance Discussion, Listening Impressions, Other Related Observations
The general sound quality was not that great and had a few general flaws that were quite noticeable. The boxiness factor was very apparent, and I kind of felt like I was listening to a pair of sea shells against my ears. That kind of compounded on an overall lack of crispness and clarity/detail, as well as some sibilance that, while not as bad as other cheap headphones I've listened to, was still noticeably there.
I feel like a better clamp would help these headphones – they seemed to sound a bit better when I pressed them against my ears.
The over all response seemed pretty even and consistent. The quoted response range is 30 – 20k Hz, which is marginally worse than average even at this price range, but the bass was actually OK for the most part. There was definite bass/beat fatigue though.
Volume wise these got loud enough just fine – the max SPL of 97 dB is a bit low, but the 32 ohm impedance is also low enough that just about any device should be able to get these loud enough without too much trouble.
Though they're called noise isolating headphones, there was practically no actual isolation, and sound also leaked out a bit. All the more reason to not use these in public as commuter headphones.
Koss, believe it or not, offers their limited lifetime warranty on these headphones which is practically unheard of at this price-tier. However, beyond certain time periods depending on your region, they do make you pay a shipping fee to get them RMAd, which really just doesn't make sense when the actual headphones themselves aren't that much more expensive than that.
Random specific listening notes:
Daft Punk; Give Life Back To Music – guitar significantly recessed, bass sounds good though
Daft Punk; Get Lucky – boxiness/sibilance is pretty bad, bass sounds bumpy/muddy in a not good way
Daft Punk; Lose Yourself to Dance – bass line intro sounded pretty solid, tone/pitch was there, definite resonance and fatigue though
An Endless Sporadic; Impulse II – boxiness/lack of crispness makes this song generally sound off, makes the brass instruments sound terrible, string instruments sound not as bad but still not good, clarity and response consistency seems fine though
Trinity College Choir; Ubi Caritas – choral vocals actually sound quite good with the sound style of these headphones, baritone/bass parts are slightly recessed
Clean Bandit; Rather Be – definite beat resonance/fatigue, good even response, background choral trebles recessed, violin part sounds pretty good and not so normally harsh
Steely Dan; Peg – song just lacked its normal crispness all around, but had good even response, hiss/sibilance apparent on choral hooks
Steely Dan; Josie – boxiness, lack of song's normal clarity
Lil Wayne; A Milli – bass drop sounded pretty good, but there's definitely fatigue
The Chainsmokers; Wake Up Alone – boxiness, recessed midrange, lack of clarity and muddiness all around, bass drop sounded/felt decent but had a lack of pitch and couldn't decipher the notes
Earth, Wind & Fire; September – brass instruments actually sounded OK this time, general midranges significantly recessed
Bag Raiders; Shooting Stars – end drop build up actually sounded decent, actual drop was a muddy cluttered mess, but that part almost always fails with budget headphones
No Doubt; Hey You – a little of the boxiness, but actually sounded good, punchy guitar was there
Nas; The World Is Yours – vocals very forward and harsh, chorus sounded pretty bad and boxy/harsh, beat seemed pretty solid, little fatigue yet again though
Rage Against The Machine; People Of The Sun – midranged recessed, sibiliant cluttery drums, generally underwhelming, sounded off all in all
Rush; YYZ – lack of crispness and individual isntrument clarity that just kind of takes away what makes this song so great
Pantera; Cowboys – boxiness/sibilance just ruined this song, unlistenable
Cher; Believe – actually sounded really solid, good beat presence without fatigue, vocals were good, midrange background ambient instrumentals were only very slightly recessed
Outkast; The Way You Move – the low note of the bass line dropped off to like half volume, choral vocals sounded too forward and boxy, Big Boi rapping had a little grain and lack of clarity
Overall Take, As Compared To The Competition
The UR20 is actually pretty good all around for how cheap it is, but it's just at that awkward price point where, for not that much more money, you can get a desktop pair of headphones that sounds significantly better. There are also, in my opinion, similarly priced headphones that sound better and have much less of that thin/boxy issue. The loose fit with the cheap faux leather is also enough to make these a deal breaker I'd say.
See the Koss UR-20 on Amazon (affiliate link)