Written By Pete Anthony
Last Updated On: 3-26-19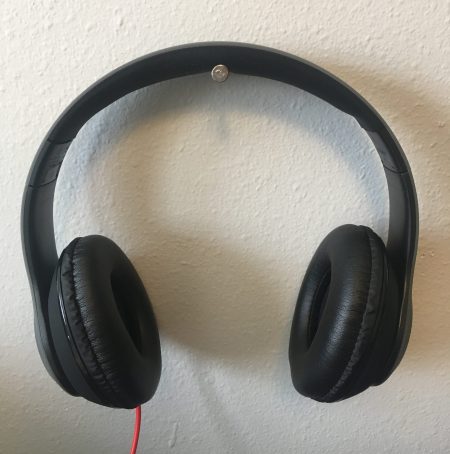 iJoy is yet another of these seemingly obscure and nondescript audio companies. They appear to be owned by a company called Quest Holding Group, which appears to be an unrelated venture capital type establishment.
The company has a mere six total items listed on their official shopping page including the very inexpensive Logo headphones reviewed herein, which interestingly have topped Amazon's best sellers list for quite a while and amassed over 5000 reviews to date.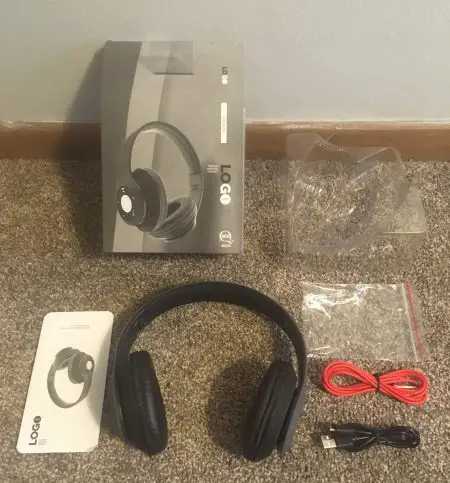 Packaging was pretty minimal – The collapsed headphones fit into a single contoured piece of plastic that's flush with a small box. They weren't wrapped in plastic. An included 3.5mm cable and micro usb charging cable were in their own small plastic baggie. And finally there's a small pamphlet with product specs and basic instructions. They don't come with a carrying case/bag.
With headphones as cheap as these I'm mainly looking for packaging that seems sufficiently protective for shipping, and this seemed to be fine.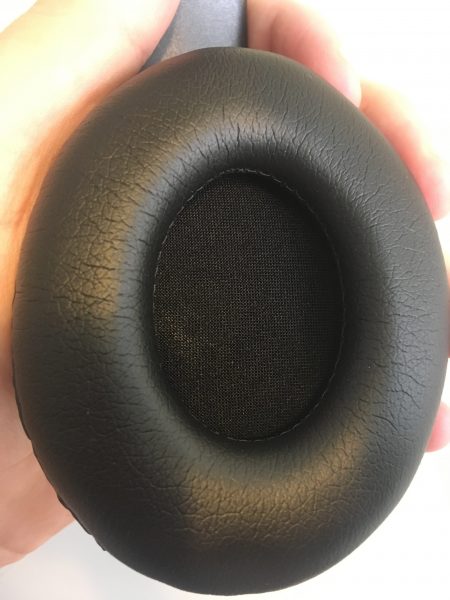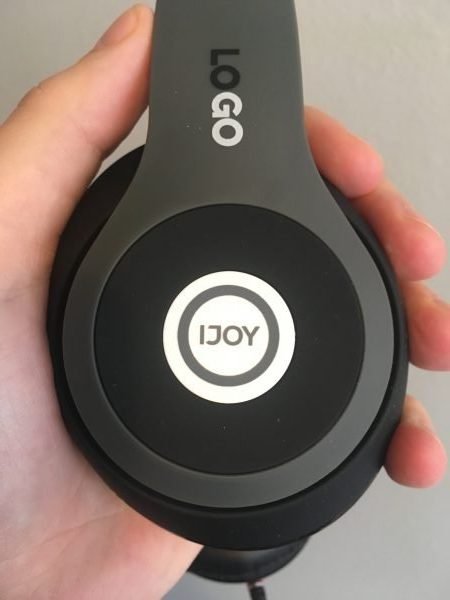 The headphones are on the small side, and though I've seen them called over-ear headphones they're definitely more of an on/over ear hybrid. They can rotate and pivot very small amounts, but are otherwise immobile. I was able to get a decent fit, but others might have trouble. The pads and faux leather feel reasonably decent.
The included ~4ft wire is pretty basic but reasonably thick and sturdy, and is removable from the headphone. The input is somewhat embedded beneath a cylindrical hole that is contoured to the included wire, so while the wire is at least replaceable it would need to be narrow enough to fit.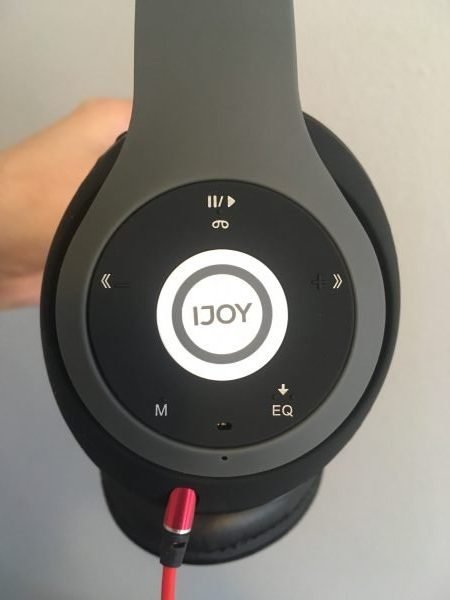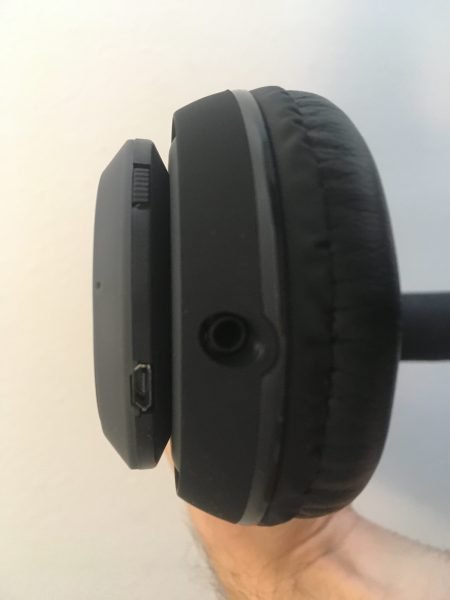 The left headphone has a few basic on-board button controls: a play/pause and on/off call combo button, tracking and volume combo buttons, a Bluetooth/radio mode switch, and an EQ button with no explanation as to what it actually does in the manual other than switch between six "modes." There's also a built in stealth mic on on left headphone but I doubt it's much good for anything beyond very basic use.
I charged the headphones up and tried the mysterious EQ button but it didn't seem to do anything to change the sound at all, nor did it give any kind of beep or other such indication that it was even working somehow. I could neither find any information online on their website or otherwise, so this will remain a mystery until I maybe subsequently update this review at some point.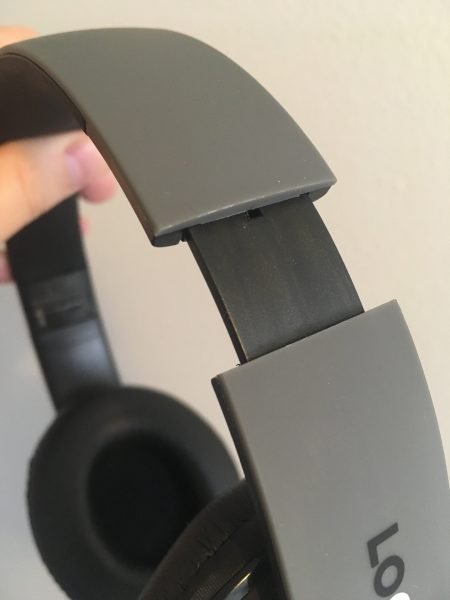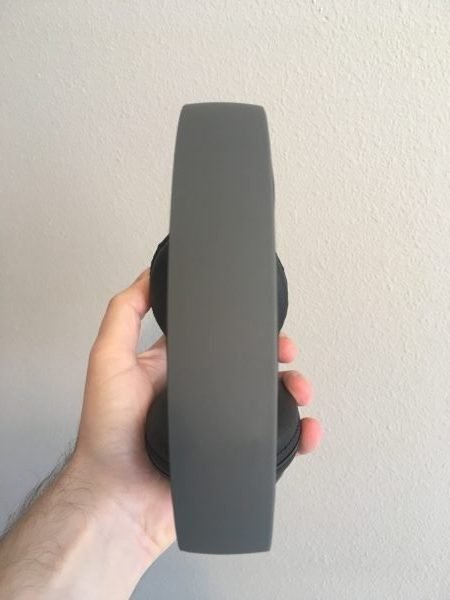 The headband is pretty basic, just the same plastic with an inner band of yet more plastic by which the sides can adjust. There are no indicator lines but the band adjusts by increments with an emphatic click, so you can at least count on both sides to get even length. The band is kind of flimsy and you kind of have to finagle it to get it to move, but seems to sit solidly in place once adjusted.
The pad on the bottom of the headband is pretty thin and minimal, but it's something at least. I didn't feel any hotspots. The headband itself is a bit malleable which does help a bit with the overall fit.
The clamp force is medium – the phones sit securely on my ears even if the headband is too elongated to rest on my head, but it's not vice-grip tight.
The overall build is a bit cheap and plasticky, the adjustable bands in particular, but they feel reasonably sturdy and don't have that awful creaking sound that some cheap plastic headphones have when you move them around. They look maybe a little tacky but still pretty decent overall, and they're nice and compact. Pretty good actually for being available for less than $20.
Check out the iJoy wireless headphones more on Amazon
Spec/Performance Discussion, Listening Impressions, Other Related Observations
A cheap pair of wireless headphones from an obscure electronics company with a bad website complete with broken English and remaining Latin filler text… I doubt you'd be surprised that I came into this ready to not be impressed.
But I was impressed – these actually sounded quite good, and enough so to overcome my preliminary negative bias. The only thing I noticed out of the gate was that they have a bit of boxiness and roundness to them, which is very common with budget headphones, but not at all to a degree that was horrific. Other than that I couldn't initially detect any glaring specific flaws, and indeed there were aspects of the sound that were noticeably good.
The overall response sounded pretty consistent and even, though there was some midrange recession that was more noticeable in some songs than others.
The bass was surprisingly good, particularly in certain spots where budget headphones usually fall short. There was a little resonance and fatigue, and they couldn't get get fully down there like more expensive cans can, but the tone/pitch of the bass was impressively solid.
The quoted response range in the manual is 20 – 20k Hz, which is average for budget over-ear headphones, and they interestingly have a response graph printed right on the outside of the box: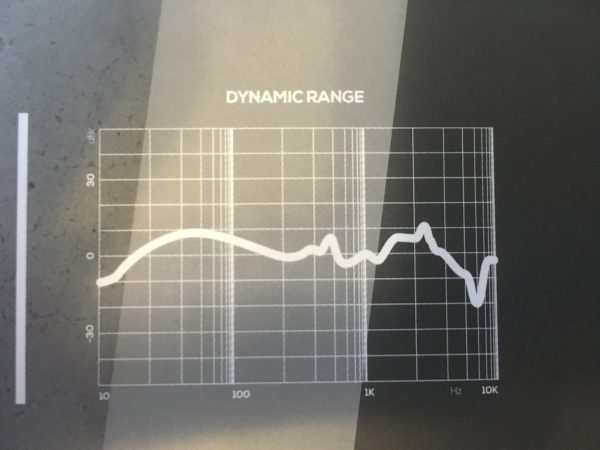 Even though you do have to take self reported data with a grain of salt, it's a nice and surprising act of transparency that looks consistent with my listening impressions.
The quoted impedance is 32 ohms which is also pretty average for budget headphones – they got loud just fine for me and I don't think any device will have trouble doing the same.
Noise isolation was essentially zero but the leakage minimization was actually pretty good. So while these might not be great for dealing with noisy backgrounds, they should still be reasonably fine as commuter headphones.
On their Amazon sales page they say these have a six month warranty, but the website says they have a limited "lifetime" warranty but it isn't exactly clear if or how it specifically applies to these headphones.
One interesting and relatively recent Amazon review reported that the lithium ion battery actually failed and exploded when it was plugged in to charge, complete with gruesome after pictures. Someone who appeared to represent the company said the defect has since been fixed. I plugged mine in for a full charge and they didn't get hot, balloon, or otherwise seem like they might fail the same way, so, take that all as you will and caveat emptor.
Random specific listening notes:
Daft Punk; Give Life Back to Music – background guitars are a little recessed but overall the song sounds solid, surprisingly good bass line clarity
Daft Punk; Get Lucky – sounds solid overall, good bass line clarity, midrange guitar is better here
Daft Punk; Give Yourself to Dance – intro bass line very surpisingly came through, could actually hear the notes and tone, which almost never happens with budget headphones, little bit of resonance and fatigue though. Bit of grain in the ambient beginning effects as well
An Endless Sporadic; Impulse II – boxiness effect kind of apparent here, but the clarity was still good, all instruments sounded good, percussions were nice and tight
The Choir of Trinity College; Ubi Caritas – sounded really good overall, nice clarity, balance, overall warmth, baritone/bass was slightly recessed
Clean Bandit; Rather Be – beat was pretty thumpy and fatiguing, bit of imbalance on this song, violins and vocals sounded solid
Steely Dan; Peg – sounded solid overall, no perceptible complaints, could really hear the bass line nicely
Lil Wayne; A Milli – bass drop came in nice and strong, bit muddy and resonant though, definite fatigue
The Chainsmokers; Wake Up Alone – midrange recessed here, hard to hear ambient background sounds, bass drop was a little underwhelming, could hear drop off on low notes that lost like 20% volume
Earth, Wind & Fire; September – brass and strings definitely recessed, song is imbalanced
Deadmau5; The Veldt – bit thin and harsh, bit of sibilance at the beginning, thumpy beat fatuige again, otherwise sounds good
Ludovico Einaudi; I giorni – little lack of clarity due to the boxy effect, string instruments a little recessed, but otherwise sounds solid
Nas; The World Is Yours – beat has that thumpy fatuige, but otherwise this sounds really solid, DJ solo sounded great
No Doubt; Hey You – sounded solid, no perceptible complaints
Petit Biscuit; Memories – sounded solid, bit of that thumpy beat fatigue again though
Rage Against The Machine; People of the Sun – sounded solid, guitar was a little recessed and underwhelming, bass overpowered a little bit
RÜFÜS DU SOL; Sundream – sounded solid, no perceptible complaints, beat was strong but no resonance or fatuige this time
Rush; YYZ – sounded pretty good, but lacked some crispness that takes away from Neil Peart's drumming
Vanilla Sky; Umbrella – sounded solid, no perceptible complaints
Overall Take, As Compared To The Competition
They iJoy Logo is a surprisingly good sounding and performant on/over ear pair of headphones for how inexpensive it is. It's also sturdy and looks decent enough. If you're looking for a cheap-as-possible option that has wireless capabilities and on-board controls, this certainly could be your best choice. There are superior products available for not all that much more money, some of which have all the same features.
Get the iJoy Logo headphones on Amazon (affiliate link)