Written by Pete Anthony
Google has a rich history of foraying into various markets with somewhat random products, and with the quick rise in TWS earbud popularity, it isn't that surprising that they've put their hat into that ring as well.
Enter the Pixel Buds Pro, the premium version of only two pairs of earbuds that Google currently makes and sells (the Pixel Buds A-Series is the other one). The Pro notably features added noise cancellation, automatic EQ adjustments with volume changes, and wireless charging.
But how does it compete fidelity wise? Is the sound quality up there with some of best and similarly priced competition? Let's dive in.
Specs and Features at a Glance
Released: July 2022
Price-point ⓘbudget: around $30 or less
value: around $30-$60
performance: around $60-$100
premium: around $100-$200
elite more than $200: Premium
Design style: 11mm single dynamic drivers
Purported battery life: 11h earbuds; 31h total with case recharges (with ANC off)
Bluetooth version: 5.0
Weatherproofing: IPX4 (buds), IPX2 (case)
EQ app compatibility: No
Noise cancellation/transparency modes: Yes (only on Android, and pre-sets only)
Onboard controls: Touch Based
Warranty: 1 year
Multi-Device support: No
Wireless charging: Yes
Minimalist yet elegant is Google's design style, and the packaging reflects it. I actually like it – it's simple, minimally fussy, and sufficient. The little carboard tube that contains the two extra sets of tips in their own partitions is pretty neat too.
Pixel Buds Pro Case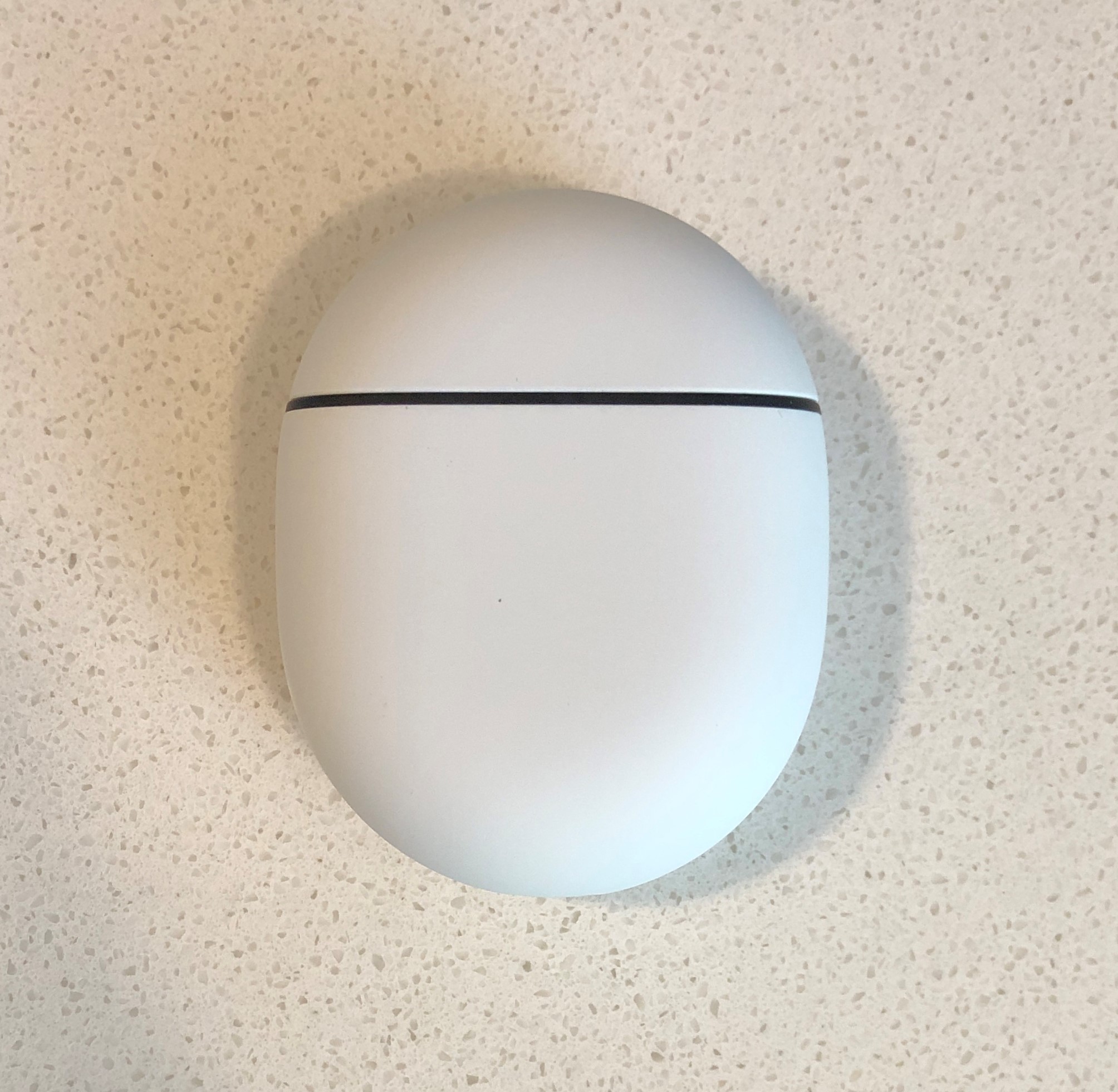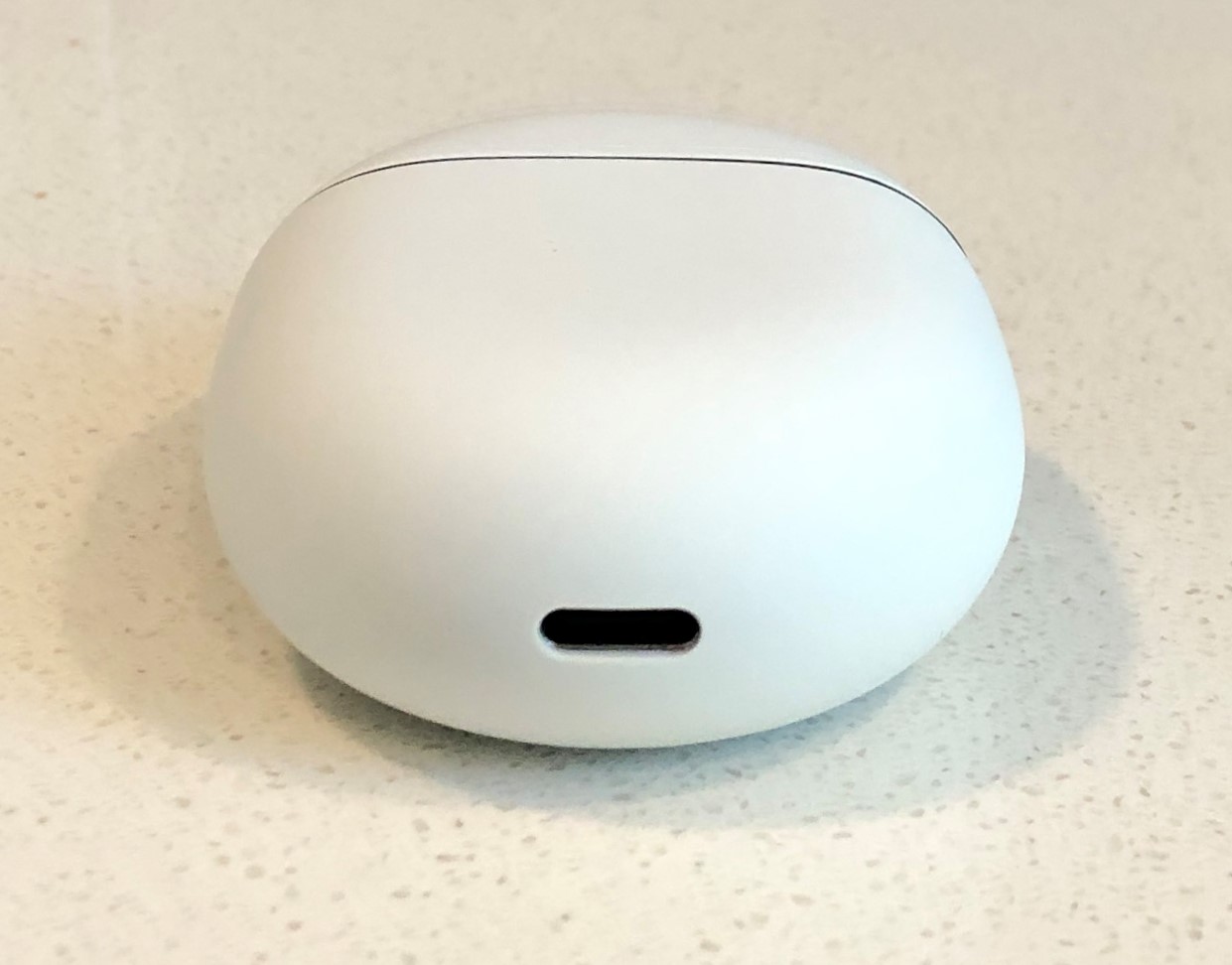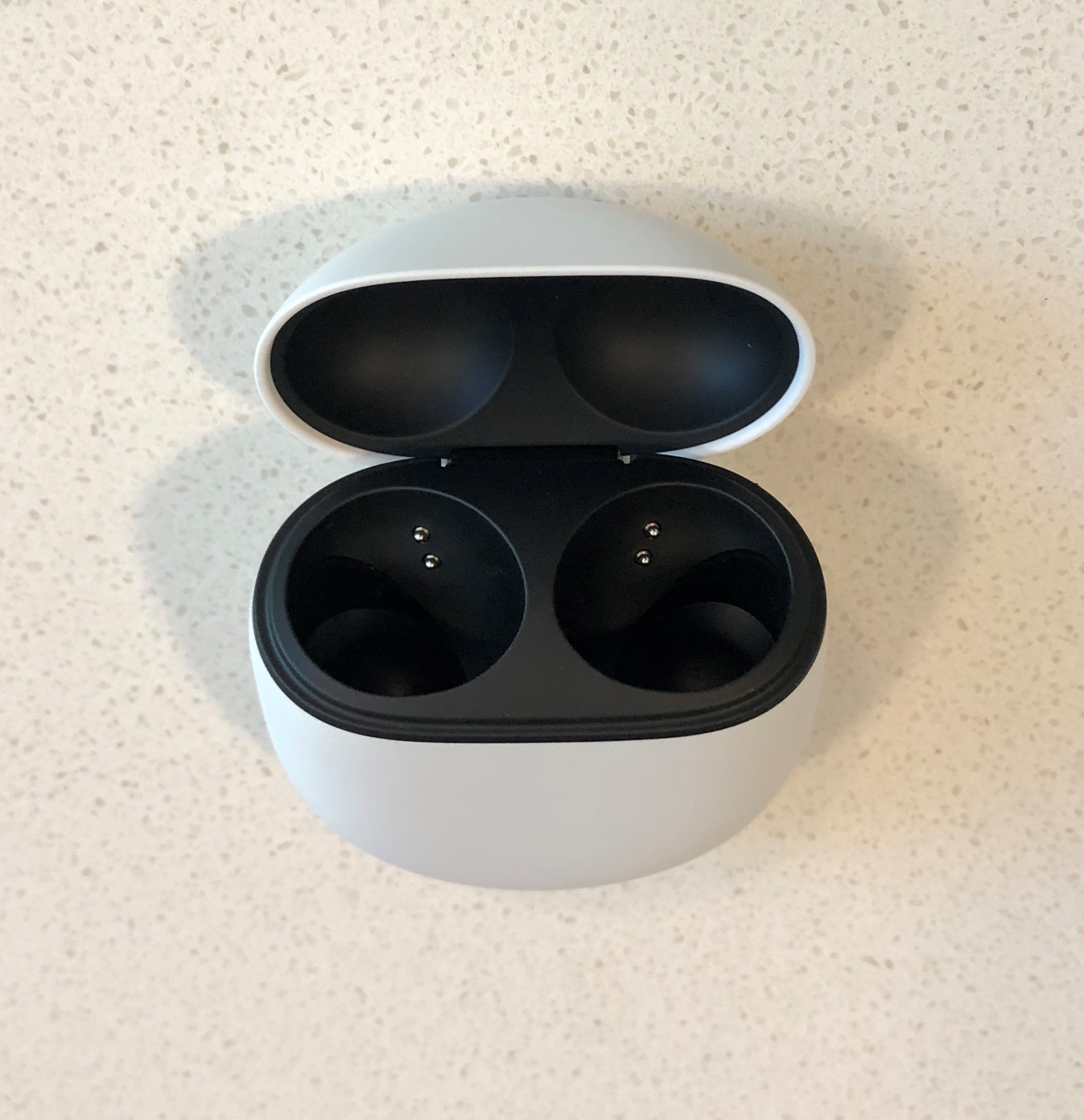 The case is very nice. The matte texture has a good feel, and the sides, lid, and hinge all feel very sturdy – even if I try to push and bend things with a fair amount of force they don't budge.
Fit and Comfort
I'll admit, when I first saw what the buds actually looked like, I was skeptical. However, I was able to get a comfortable and secure fit, and the seal didn't break at all no matter how I moved my head, face, or jaw around. I did have to opt for the large set of tips and I'm normally a medium-ish guy, and the feel of the fit is on the shallow side.
Inserting them is fairly easy – you put them in with the backs facing up then kind of rotate them back a bit to lock them in place.
Isolation
A quick preliminary remark here: you can only use the Pixel Buds app on an android device, which I don't currently have, and that is the only way to turn ANC off. So, I couldn't test the natural isolation as I was only able to switch between ANC and transparency mode via the default controls.
With the ANC on, the isolation is excellent. This might be the best ANC I have ever tried – it really does a good job of attenuating all sound from low to high, and I honestly couldn't hear anything in my quiet room which usually hovers around 30 – 40 dB of background noise. The Pixel Buds Pro also has proprietary vents that help prevent the weird and sometimes uncomfortable "sucking" sensation that ANC causes.
Suffice to say, if you're looking for a comfortable pair of earbuds with top of the line ANC and noise attenuation, the Pixel Buds Pro might be the one for you.
Usability
The Pixel Buds Pro has a nice touch based control schematic that was reliable and easy to use. The backs are nice and large, and I had no issues executing commands consistently.
Each command is mapped to both earbuds, but there are enough commands to accommodate all the functions you'd expect and want. There is also an aesthetic beep to acknowledge each tap so you know if one, two, or three taps respectively went through. You can customize the controls in the Pixel Buds but, again, you need an Android device to use it.
Pairing the Pixel Buds was easy and straightforward – they automatically enter pairing mode when you open the lid after the initial charge, then just select "Pixel Buds Pro" from the menu and you're good to go. If you want to pair them to an additional device, just hold the button on the case down for 3 seconds and then go through the same process.
The Pixel Buds Pro doesn't automatically switch between multiple devices – when I wanted to switch between my phone and computer I had to tell each to reconnect to the (still paired) earbuds, but that worked seamlessly and without issue, which isn't always the case with TWS earbuds.
A note before the next section: this page describes how I evaluate the sound quality of headphones and earbuds.
The Important Question: Do The Pixel Buds Sound Good?
The Pixel Buds app apparently has 5 EQ pre-sets, but, again, I don't currently have an Android device so I was stuck testing and reviewing the default sound profile.
The sound quality is decent for the premium tier price-point, but not great. The limitation of the Pixel Buds Pro is that single 11mm dynamic drivers are simply not going to outperform the multi-driver designs you see in competitors like the Galaxy Buds Pro, which in my opinion are still pretty much the best sound wise.
The Pixel Bud Pro's balance and clarity are good, and the sound has a nicely soft, warm, and slightly bass emphasized profile. The tone is also good and things sound very natural. The mid highs are a little recessed and, as a result, there's some lack of detail and separation.
The bass extension is similarly decent, but not great. The drops I normally test mostly hit, but had a little bit of roll off and jump back.
Final Verdict
The Pixel Buds Pro definitely has a marketing angle, but it's not towards the audiophile. Rather, it's towards the average user who wants comfort, great isolation, good battery life with ANC/transparency, a sturdy case, and easy usability. And, for that person, I think the Pixel Buds Pro is a great product. Fidelity wise it's not the best you can get at the premium tier price-point, in my opinion, but I can definitely see myself using these for casual travel and such.
Get the Pixel Buds Pro on Amazon (affiliate link)
Popular Comparisons
For those who are curious how the Pixel Buds Pro fares against popular competitors: