Written by Pete Anthony 
Last updated on: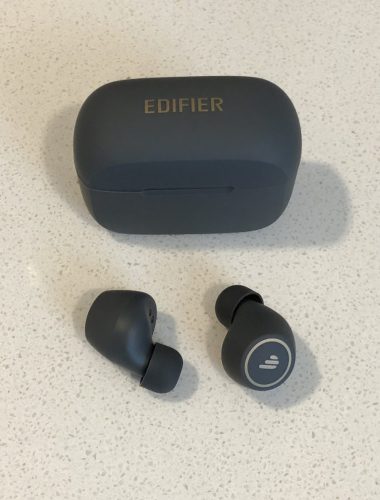 Edifier is a newer Chinese audio company (with an interestingly anglican sounding name) that has seen tremendous growth and success in the e-commerce market. Their budget bookshelf speakers have consistently topped Amazon's best sellers list for the last five years, and are very favorably reviewed by the audio community. I personally wrote up a review of one of their older and original budget over ear headphones, the H840, and was pretty impressed with it at the time.
Since then Edifier has, like just about all the headphone companies, entered the true wireless earbud market and now produces a variety of wireless audio products. The TWS1 Pro came out circa mid 2021 and now appears to be their most popular pair of earbuds.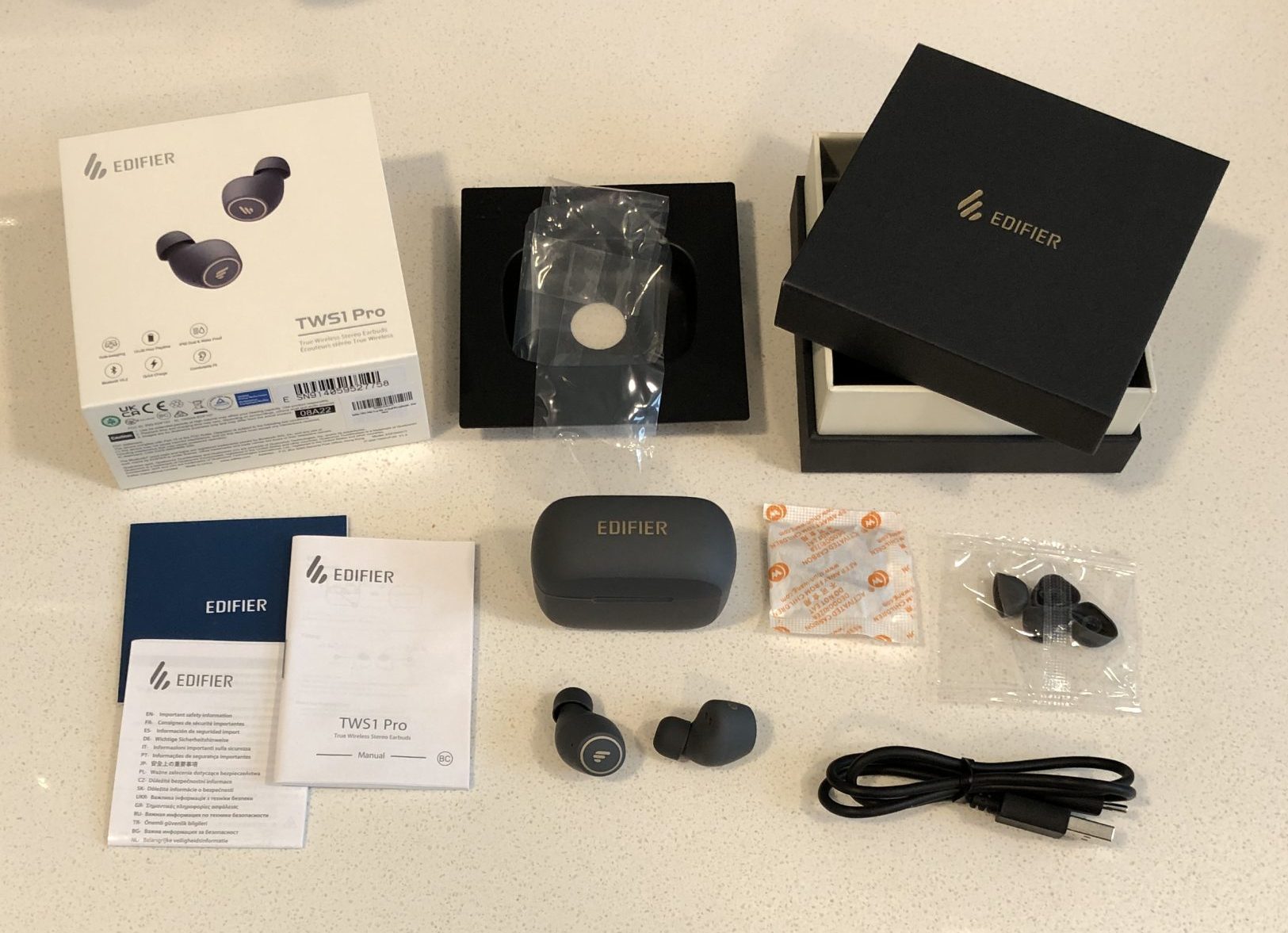 What Accessories Come Included With the Edifier TWS1 Pro?
instructional booklets
two pairs of different sized replacement tips
short USB-C charging cable
charging carrying case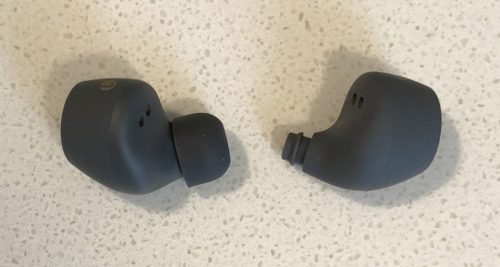 How Good and Comfortable Is the Edifier TWS1 Pro Fit?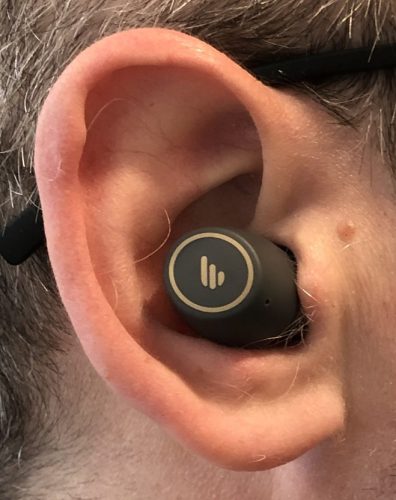 The parallel sided U style tips give the TWS1 Pro a very firm and deeper feeling seal that I really like. The earbuds feel very secure as I wear them. The tips aren't so malleable though, so the seal did break and cause bass suckout if I smiled wide enough. Not a huge deal but not insignificant.
The unique tip shape and the long sides with cornered edges makes the TWS1 Pro easy to take out and put back on.
Does the Edifier TWS1 Pro Have Good Touch Controls, and Is It Easy to Use?
The TWS1 Pro has an easy to use touch control schematic that has all the basic functions you'd expect true wireless earbuds to have in 2023. The flat backs are pretty wide and easy to touch, and I was able to execute commands reliably.
List of TWS1 Pro Touch Control Functions:
pause/play, accept call – 1 tap either earbud
reset/track back – 2 taps left earbud
track forward – 2 taps right earbud
volume down – press and hold left earbud
volume up – press and hold right earbud
reject/end call – press and hold either earbud for 2-3 seconds
How do you pair the TWS1 Pro?
Initially pairing the TWS1 Pro is easy and straightforward – just take one or both of the buds out of the case and they'll automatically enter pairing mode, indicated by the indicator lights on the buds blinking red and blue. Select "EDIFIER TWS1 Pro" from the menu and you're good to go.
To manually put the TWS1 Pro into pairing mode just press and hold either earbud for 2-3s until you see the same red and blue blinking light. This only works if it's not already currently paired to a device.
Durability: Is the Edifier TWS1 Pro Waterproof And/Or Dustproof?
The TWS1 Pro has an official ingress protection code of IP65 – the final "5" digit means it is water resistant up to moderate pressure jets, and the penultimate "6" digit means it is dust tight and debris resistant. This is a very good level of weatherproofing at the sub $50 dollar price-point that alone makes the TWS1 a good option for people who will be dealing with very dusty environments.
Does the Edifier TWS1 Pro Have Good Isolation And/Or Active Noise Cancellation?
The TWS1 does not have active noise cancellation or transparency modes, but the isolation is good, between medium and high I'd say. The TWS1 will be fine for basic commuter use and such.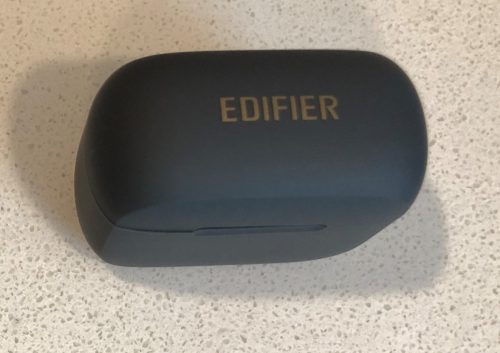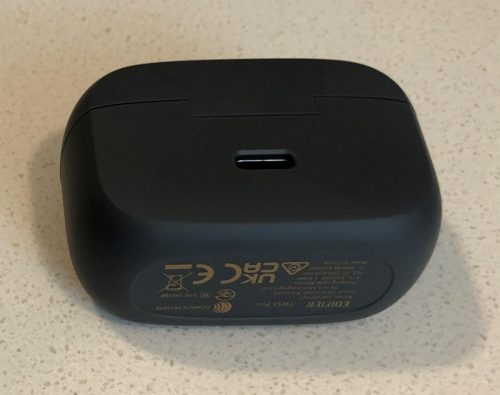 The case is relatively compact and pocket friendly despite the earbuds themselves being on the big and bulky side.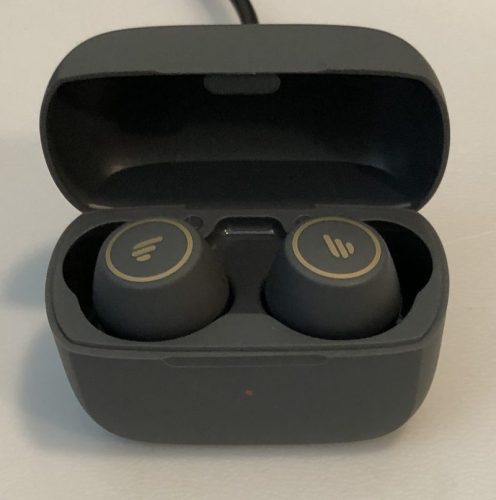 How Good Is the Edifier TWS1 Pro Battery Life?
The earbuds purportedly hold up to a 12 hour single charge, which is very good at the budget/value price-point. The case purportedly gives up to 28 hours of additional battery life for a grand total of 40 hours, which is OK for the price-point but not amazing.
Does the Edifier TWS1 Pro Have Good Warranty Coverage?
All Edifier products have a 30 day refund/exchange window, and all Edifier headphones have a 1 year warranty against defects, which is the fairly standard minimum for budget and value tier headphones. Some companies will offer up to 2 years of coverage on their comparable products.
A note before the next section: this page describes how I evaluate the sound quality of headphones and earbuds.
The Important Question: Does the Edifier TWS1 Pro Sound Good?
The TWS1 overall sounds good for its price-point. It has an interesting sound signature, pretty neutral/flat and purportedly within a +/- 3 dB variance, but with a slight M shape. There's a peak in the mid-highs and cymbals and high percussions are very crisp and sound quite good. There's also a hump in the mid-lows that puts a lot of similar emphasis on things like rhythm guitar and synth sounds. It's an interesting combination that gives the TWS1 very good clarity and particularly good detail, but it's also pretty bright, sometimes harsh, and kind of thin and airy. It's a distinct flavor that I think some people will really like, and some wont. The perceived soundstage is also quite wide and noticeably immersive.
The bass is not really tuned up like it normally is with mainstream headphones and these are definitely not bassy earbuds. The quoted response floor is 20 Hz, which is dead average for budget headphones, but the bass extension is solid – it feels nicely consistent and doesn't roll off and jump back in as drops come and go.
Final Verdict: Is the Edifier TWS1 Pro Worth Buying?
At its original MSRP of around $60 I'd say the TWS1 Pro is merely OK, though it might have been comparatively quite good when it originally came out in 2021, and it wasn't too long ago that there were very few true wireless earbuds that had a double digit IP code for water and dust resistance.
The TWS1 Pro has since been significantly discounted to around $40 or less, and for that price it's a good product, even two years later in 2023. If you're looking for earbuds with that less common neutral/bright sound style that really emphasizes the individual detail of instruments, and you think you need good weather and dust resistance in particular, then I'd say the TWS1 Pro is an excellent choice from a company that has a proven track record over the last five years.
Get the Edifier TWS1 Pro wireless earbuds on Amazon (affiliate link)
Relevant Articles
• The best value tier (under $50) true wireless earbuds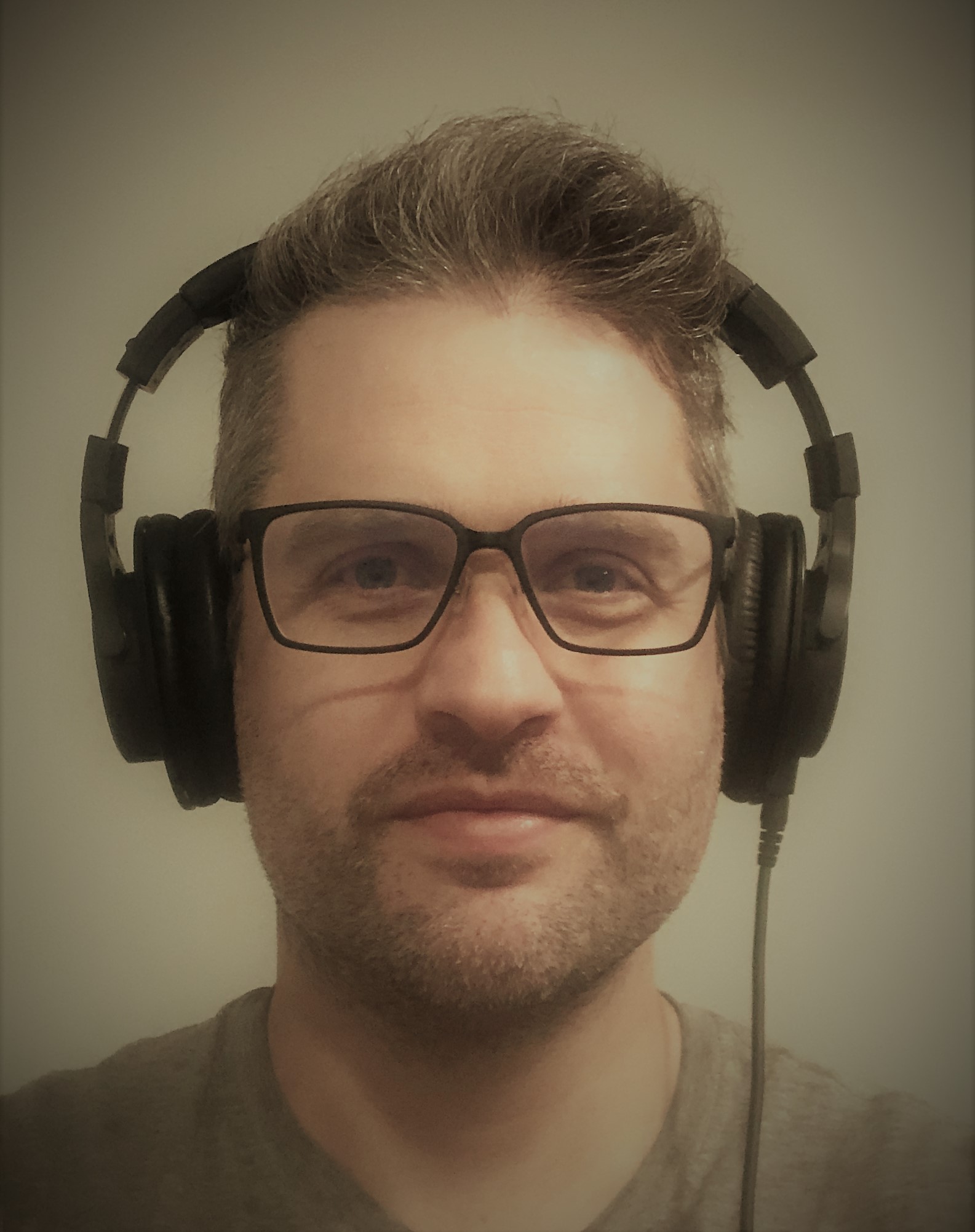 Pete Anthony has had a lifelong affinity for music, and more recently has become an anti audiophile snob who wants great sound to be accessible and enjoyable by anyone. Without needing to break the bank. Read his full author page
here
.