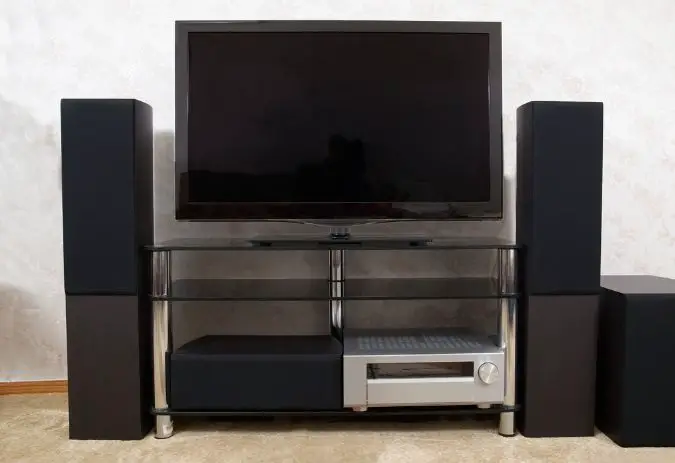 Unlike bookshelf speakers which need to rest on stands or a shelf, tower speakers are designed to be optimally positioned when merely standing up straight from the floor. They accomplish this with cabinets that are many times taller and larger than that of a run of the mill bookshelf speaker. The larger cabinet in itself brings additional advantages, namely that the speaker can get louder and more performant because it can move more air and fit more woofers in the baffle. And of course they look cool too. For many, a home theater system is, among other things, a stylistic statement. Tower speakers are pieces of furniture in their own right that contribute to a room's decor.
The drawback? Well, besides being much larger and heavier, they can get expensive, really expensive in some cases – many HiFi tower speakers easily crack the five figure barrier. And for a long time, decent budget-tier floorstanding loudspeakers that were affordable for the average homeowner didn't really exist. But that's definitely changed in recent years – numerous brands have produced entire lineups of HiFi speakers that sound and look great while being modestly priced, including tower speakers.
What To Look For in a Good Affordable Tower Speaker
Speaker sales pages can get pretty cluttered with jargon and confusing to the non-experts, and a lot of what's advertised doesn't actually matter that much or at all. That said, there are a few important things any decent tower speaker should have:
3-Way Design With at Least Two Woofers
The arguably most effective way to improve a speaker's sound quality from low to high is to add more woofers so that they can be optimized for more specific segments of range. Bookshelf speakers are usually two-way, meaning they contain one tweeter and one woofer, because that's all that can realistically fit in that small of a cabinet. Tower speakers are obviously bigger though, and with that extra room it becomes possible to add additional woofers. A two-way tower speaker with just one tweeter and woofer at the top kind of misses the point – you might as well get nicer bookshelf speakers with your money and put them on stands.
Frequency Response Range and Variance
Not just the ability to reproduce sounds from very low bass to high up treble, but to do so evenly and consistently. Look for a manufacturer that specifies a maximum frequency response variance (the industry standard is +/- 3 dB) in addition to a response range.
Power Handling
Speakers that can handle more power can get louder, and it's important for tower speakers to get loud enough since they're the cornerstone of any home theater or audio system.
Sensitivity
Sensitivity is complementary to power handling – a speaker with higher sensitivity can get louder with less power.
Something That Actually Sounds Good to You!
Specs can only tell you so much about a speaker in all honestly, and the only way to really know if it's the best for you is to actually listen to it, and in your room specifically. Good audio companies know this and as such offer return and exchange windows in case something you get doesn't work well for you.
The Important Truth About Buying Audio Equipment
We always say the same thing in each of our roundup articles:
Product prices can fluctuate significantly in the audio market, and often times for no apparent reason.
Therefore, the "best" product choice often comes down to whatever the best available deal is at the time among the top/popular contenders. It's definitely worthwhile to shop around. One tool that's useful for doing this is Amazon best-sellers lists – they update hourly and these good deals often rise to the top. The table below is populated in real time with data from these best-sellers lists. You'll usually see our picks among them.
Current Amazon Best Sellers – Query: tower speakers
Our Top Overall Budget Tower Speaker Pick: The Jamo S 807
Thanks to subsequent discounts from the MSRP, the S 807 speakers really have it all for a very low price – great power and sensitivity specs, a 3-way design with two nice fiber woofers with concave dust caps, and a really slick looking design to top it off. Currently, these are probably the best value you can get on tower speakers.
Our Honorable Mention For Maximum Power and Surround Sound: The Klipsch R-26FA
When it comes to maximum power for your money, Klipsch is usually the winner, and the R-26FA is no exception with it's incredibly high power handling and sensitivity ratings. It's an upgrade on the now legacy R-26F, which used to be on this list, that among other things added built in upward firing height speakers, which makes them a cool all in one solution for 7+ channel Dolby Atmos surround sound.
These do tend to go for a little more than $500, but, we still think they're worth including in this article for what they bring to the table at such a modest price. Also note that you'll need a 7+ channel receiver that supports Dolby Atmos if you want to fully utilize these speakers.
Frequently Asked Questions
Do I need a subwoofer with tower speakers?
A subwoofer is not required for tower speakers to work, and unlike most smaller bookshelf speakers, tower speakers can often have sufficient and excellent bass if they have additional larger woofers with their own dedicated crossover via a 3+ way design. Some bigger tower speakers will actually have subwoofers built into them. That said, adding a dedicated subwoofer will often audibly improve bass and overall sound quality, and it's thus often a great idea to add one to any home theater system.
Are tower speakers better than bookshelf speakers?
If each is on their own, tower speakers will generally offer better all around performance and value than bookshelf speakers will, but not always, especially if you have or are willing to add a subwoofer.
Are tower speakers good for surround sound?
Tower speakers that have additional omnidirectional woofers built in do excel as an all-in-one option for home theater surround sound.
What's the difference between wakeboarding tower speakers vs home theater tower speakers?
Wakeboarding tower speakers are a completely different kind of audio product – they are marine speakers that are actually circular, but are designed to attach to the upper part of a motor boat that also so happens to be called a tower.