Written By Pete Anthony
Last Updated On: 9-23-19  
Amazon Music Unlimited, which is yet another platform in the increasingly competitive streaming market, released a new high definition service upgrade on 9/17/19 that adds over 50 million songs in CD quality HD (16 bit/44.1 kHz), and millions of songs in Ultra HD (up to 24 bit/192 kHz). These songs are delivered in lossless FLAC (Free Lossless Audio Codec) format which is considered to be significantly superior to the ubiquitous MP3 and MQA digital audio file types.
This new service costs $14.99/month, or only $12.99/month for Amazon Prime members (if you need yet another reason to subscribe to that); compare that to Google Play and Spotify Premium which both cost $9.99/month and don't currently offer the higher quality FLAC format.
I signed up the day it came out and was immediately sold. I was previously using Google Play premium (soon getting fully replaced by YouTube Music anyhow), which I had previously switched over to from Spotify Premium.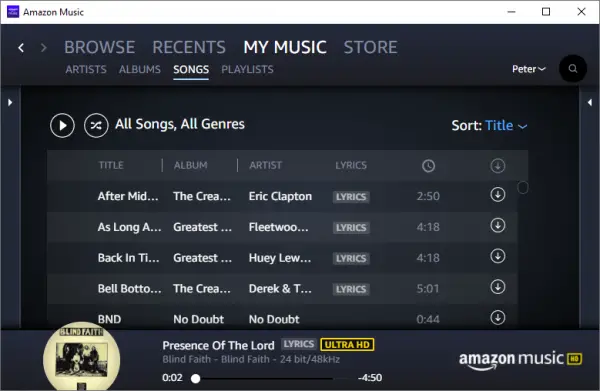 The Amazon Music Unlimited desktop app (which you currently have to use to access or download the HD files on a desktop computer) is much better and more feature rich than the Google Play interface, which has not really changed at all since its release in 2013. Don't worry, the HD music can also be accessed via the Music Unlimited mobile app on any compatible device.
Sealing The Deal: My Soundtrack Radio Station
Finding new music is a perennial challenge, and while the arrival of music streaming services circa 2010 could have ushered in a golden boon of musical discovery, recommendation engines across the board have been largely disappointing. The radio station feature of both Google Play and Spotify has limited functionality and just isn't good, often coughing up the same songs over and over again while seemingly never playing anything new that I'd thumbs-up and add to my library. Pandora didn't seem any better since I last used it.
Beyond that, no service was able to generate a recommendation radio from your entire library, a feature which I (and others I'd wager) desperately wanted and felt would be the best way by far to find new music, not to mention such a feature would continually improve as your library grew. Suffice to say, I was ecstatic to discover that Amazon Music Unlimited has this feature: the My Soundtrack radio station: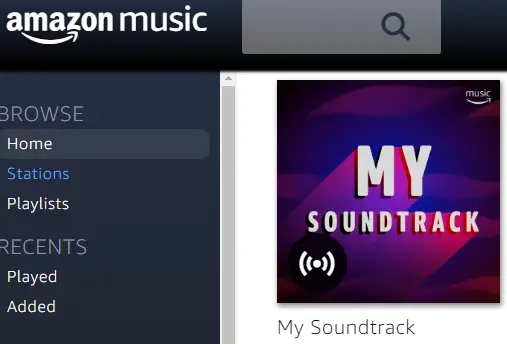 In just a few days of using this station I've discovered and added hundreds of songs to my library, which was limited to start with for that matter – both "oh yea, I forgot about that one" songs and songs that were completely new to me that I really liked. It's also really easy to navigate to a currently playing artist's page and add more of their songs to your library without disrupting the station. And this is but a small part of an entire recommendation section that suggests playlists, albums, songs, and other radio stations: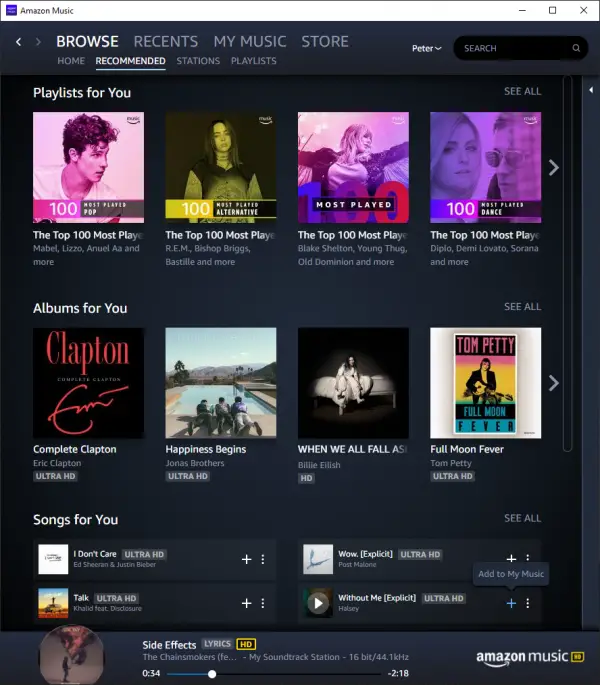 For three extra bucks a month? Amazon's new hi-def upgraded Music Unlimited service seems like a no-brainer. If you're making any kind of investment into quality audio gear, then you owe it to yourself to use the best available media type – don't bottleneck your HiFi equipment with inferior audio files. Not to mention their recommendation engine, if you want to find new music, is the best I've yet to see by far.
Even better Yet? Amazon, at the time of this writing/update, is offering a 90 day free trial so you can really use it before having to commit to a switch. What more can I say? There's literally no reason not to at least give it a try. Go here to start your free trial to Amazon Music Unlimited HD.