Written By Pete Anthony
Last Updated On: 3-28-19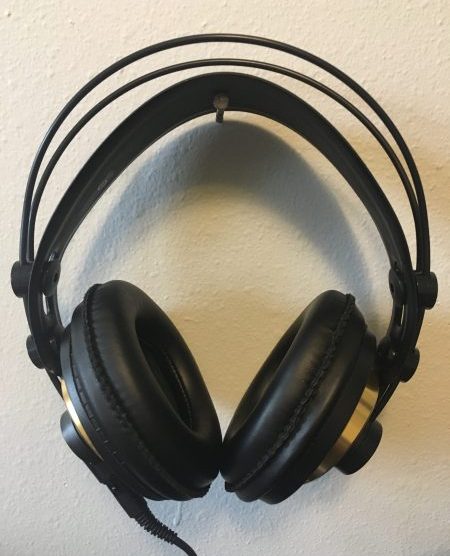 AKG is an originally European audio company that has been around for a while. They've since been acquired by Harman, the massive electronics conglomerate that now owns JBL and other well known brands.
AKG released its first headphone way back in 1949 and has been making them since. The K240 is a a "semi" open-back over-ear headphone and currently one of their lowest priced entry level offerings. Unlike closed-back headphones which are designed to seal the sound inside, open back headphones actually allow sound to escape outward, which can purportedly enhance imaging, sound staging, and other such things. It's normally a design choice you only see on expensive elite level headphones, so it's definitely interesting to see an entry level headphone with an open back.
The box was nice looking and sturdy, and easily opened to a nice presentation of the product. The inner packaging wasn't so nice. The headphones were wrapped in plastic and merely rested on a piece of somewhat contoured cardboard, and had a triangle like cardboard piece to keep them in place. The included 6.35mm adapter jack was just kind of rolling around at the bottom which I didn't like – that could definitely bang around and cause problems during shipping. Also included is a small warranty/manual pamphlet, but no carrying case.
With budget headphones I mostly care about the packaging feeling/seeming sufficient for protecting the product while shipping, and here I think they could do a little better – why not just screw the 6.35mm jack onto the wire itself to secure it, for example?
Some might notice these look familiar – they indeed have the exact same unique design as the seemingly unrelated Superlux HD 681s (reviewed here):
They obviously have the same build, on the outside at least, yet I've seen the HD 681s curiously available for half the price. The removable cord input is different and the drivers are probably different, but it's still interesting – I couldn't find any relationship between the two brands and can only speculate that they sourced at least that part of the design to the same manufacturer.
The pads on the K240s are slightly thinner than the HD 681s, and while they're plenty big enough to fit over my ear, they don't seal all that nicely and sit kind of uncomfortably ajar on my head. The headphones can rotate and pivot a small amount, but that doesn't really help because the main issue seems to be that the clamp force just isn't enough.
The headband itself simply slides up and down the wires as your head pushes up against it, the idea being, I guess, that it's supposed to "naturally" settle in a fit position. The flimsy faux leather headband isn't that comfortable either and has a hot spot up top though, same problem with the HD 681s.
The cable is removable and interestingly has a mini-xlr input on the left headphone, so you'll have to get a specific mini-xlr/3.5mm female/male cable if you want to replace it. The included cable is nice and sturdy and plenty long, almost 10 feet.
Like the HD 681s these headphones are unabashedly massive, yet are still somewhat light and flimsy feeling.
Spec/Performance Discussion, Listening Impressions, Other Related Observations
Overall sound quality was honestly not that great. Thinness and sibilance were pretty immediately noticeable, part of which is probably exacerbated by sound escaping out the open backs. That's the thing about the open design – you really need powerful enough drivers (and supplied power which might need an amp for that matter) to overcome not having the added support of being sealed in with a closed back. There was a bit of a boxy sensation that's fairly common with cheaper headphones, kind of like when you cup your hands over your ears.
The detail and clarity was quite good – mid/treble range instruments really sounded like they actually would in real life it seems.
While the response sounded nice and even from the top to the low mids, one significant flaw was how recessed the bass was – I literally couldn't hear it in some songs which winded up just sounding weird and off. AKG claims the response range is 15 – 25k Hz, which would be excellent for budget headphones with a flat curve, but the bass definitely drops off hard well above that quoted floor.
I had to really crank up the volume with these. The impedance is 55 ohms which is on the high side, and these honestly might work best with a headphone amp. My desktop device managed to power these OK on its own, but cheaper devices I think would struggle.
There was definitely noticeable fatigue on many of the songs I played and I couldn't really pin down if anything specific was causing it.
I also heard a weird click in the left headphone about three songs in. I tracked back and tried to recreate it but didn't hear anything, so I just kind of brushed it off as nothing. But then I heard it again in the right headphone and wondered if that was the sound of a part breaking in or something like that. It might have been nothing, or maybe just the can plastic itself creaking around, but it was weird enough that I wanted to share it here.
These have zero noise isolation and significant leakage since they're open backed, so they're definitely not usable as commuter headphones.
The K240s have a two year warranty which is good coverage at this price-tier.
Random specific listening notes:
Daft Punk; Give Life Back to Music – can barely hear bass at all, song feels thin and empty
Daft Punk; Get Lucky – just sounds empty and weird
Daft Punk; Lose Yourself to Dance – bass barely there again, guitars and vocals sound good
An Endless Sporadic; Impulse II – sounded fine, wide in a good way, good clarity, bass still recessed
The Choir of Trinity College; Ubi Caritas – good clarity and balance overall with choral vocals, had kind of a weird sound related to the general thinness/sibilance of the headphones
Clean Bandit; Rather Be – sounded good, no perceptible complaints
Steely Dan; Peg – sounded good again, decent balance and clarity, choral hook was a little hissy and harsh, feels like the headphones are improving as I go
Lil Wayne; A Milli – the drop just literally didn't show up, so recessed, can barely hear bass line, song just sounds wrong
The Chainsmokers; Wake Up Alone – ambient mid trebles are recessed, drop was yet again non existent, song just sounds wrong as a result
Earth, Wind & Fire; September – sibilant percussions, recessed brass/strings, sounded not great overall
Deadmau5; The Veldt – balance and clarity seem fine, but the sound sounds weirdly empty, like the fullness is getting sucked out at the middle is the best way I can think to describe it
Metallica; One – distorted guitar sounded really harsh, highly fatiguing
Ludovico Einaudi; I giorni – low strings had a weird sound attached to them, song sounded otherwise OK
Nas; The World Is Yours – vocals totally overpowered the rest of the song, instrumentals of the beat significantly recessed
No Doubt; Hey You – sounded fine overall, no perceptible complaints
Petit Biscuit; Memories – boxy factor pretty apparent here, sounded like I was listening through a tube, fatigue very noticeable on this song
Rage Against The Machine; People of the Sun – bass recession sucked the air out of this song, just sounded kind of childish and cheap
RÜFÜS DU SOL; Sundream – sounded solid, no perceptible complaints
Rush; YYZ – nice and tight, could really appreciate Peart's drumming here which makes the song so good, this is a song where detail and clarity really shine
Vanilla Sky; Umbrella – just sounded generally thin and emtpy, didn't have the normal umph that a punk style beat has
Overall Take, As Compared To The Competition
The poor fit issues and utter lack of bass are enough of a deal breaker for me. And while the detail and clarity was quite good in the mids/highs, the overall sound quality just wasn't that great either. I have to give these a pass, mainly because there are similarly priced alternatives that just sound better all around, and it seems like a budget headphone with an open back is too tall an order – I think that kind of design just needs more money sunken into it to really shine.